You Might Like
On FacilitiesNet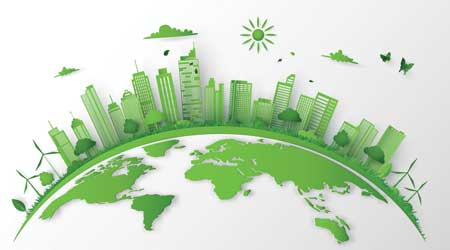 What You Need to Know About Green Building in 2020
Four main areas — sustainability, resilience, health and wellness, and value for investors — will be trending in 2020.
The decision to build green has never been more important. For some, it's about improving efficiency and saving on operating costs or attracting tenants; for others it's a crucial step in future-proofing their asset against climate risks. These reasons and more have catapulted green building into a trillion-dollar industry fueled by innovation that's focused on addressing some of the most pressing global challenges.
The U.S. Green Building Council's (USGBC) LEED green building rating system has helped the industry take action since it launched more than 20 years ago, and today includes more than 100,000 projects. With the introduction of LEED v4.1, certification has expanded to engage more projects than ever before. However, the regenerative future we are working towards requires even greater change. To that end, at Greenbuild in Atlanta this past November, USGBC announced LEED Positive, a vision that will guide future development of the rating system and help buildings become a vehicle for environmental restoration and repair.
This year will be a defining one for those committed to building green. The world faces staggering challenges in terms of water scarcity, air quality, resilience, and climate change. The building industry must be part of the solution and its contribution to solving these problems requires more aggressive action and a commitment to green building practices that not only reduce harm but cause no harm and begin the process of healing. Looking ahead, USGBC sees the following trends as playing a crucial role in shaping green building in 2020.
Sustainability
In today's world, sustainability is a part of doing business. So what does this mean for buildings? When it comes to sustainability, it starts with knowing what to track and how to track it. One of the most important metrics for buildings in 2020 will be carbon.
The release of LEED v4.1 introduced a carbon metric for the first time and through the Arc performance platform, buildings – those ready to pursue certification and those just getting started on their sustainability journey – have an on-ramp for benchmarking and tracking this crucial metric. Projects that commit to measuring progress will emerge as sustainability leaders in the building space.
Resilience
In 2019, the United States experienced 14 different weather and climate disasters that caused losses exceeding $1 billion each, according to NOAA. From West Coast wildfires to Midwest flooding to coastal storms, every part of the United States was affected, and those effects were felt most severely in underserved communities.
In 2020, buildings that prioritize resilient strategies and practices will help communities mitigate the damage and better adapt to severe events. USGBC's Center for Resilience outlines how LEED encourages resilience-enhancing designs, technologies, materials, and methods. The rating system currently offers projects an opportunity to demonstrate their work in this area through the LEED Resilient Design pilot credits.
Health and Wellness
We take the connection between buildings and health seriously. Health from a resilience perspective requires teams to focus on how spaces can be transformed to serve as shelters and gathering posts during extreme events. But health and wellness also mean understanding how a building can mitigate larger environmental issues connected to global health challenges such as air pollution from the combustion of fossil fuels and water quality. LEED provides a pathway to solving these challenges.
LEED's Integrative Process for Health Promotion pilot credit is an innovative approach to better recognizing and considering the impact that design and construction have on health. LEED's Indoor Environmental Quality credit category also outlines strategies to make occupant health a bigger priority.
Creating value for investors
Environmental, social, and governance factors are playing a larger role in decision making for investors and buildings that can show they are contributing to tackling climate issues can often find new funding opportunities.
GRESB — a leading provider of environmental, social, and governance data for commercial real estate investors – covers 4.5 trillion in real estate and infrastructure value and is used by more than 100 institutional investors to make decisions that are leading to a more sustainable real asset industry. Furthermore, LEED projects tracking performance in Arc are already set up to easily communicate how they are contributing and making progress across energy, waste, water, transportation, and human experience. Leveraging green building to support investor goals will be imperative to helping the industry transition and support a greener future.
These trends will help define leadership in 2020 and show investors, owners, and tenants why green building matters and how it's not only improving the environment but creating a better quality of life for people and communities.
---
---
---
Related Topics: