Top 10 States for LEED Show Market for Green Building Gaining
The U.S. Green Building Council (USGBC) has announced its 2014 Top 10 States for LEED. The per-capita list is based on 2010 U.S. Census data and includes commercial and institutional green building projects that were certified throughout 2014.
The per capita approach to this list provides a snapshot of the impact that LEED activity has on the lives of a state's residents over the course of a year.
This is the fifth year that USGBC has developed this list. Some interesting trends that have emerged include Illinois becoming the first state to rank as the top state for LEED for more than two consecutive years. Also, Illinois and Colorado are the only two states to make the top 10 every year since USGBC began announcing this market index. Following closely behind are California, Maryland, Massachusetts, New York, and Virginia, which have been ranked in the top 10 for the past four consecutive years beginning in 2011. Together, these seven states encompass a strong cross-section of the United States representing the Northeast, Mid-Atlantic, Southeast, Rocky Mountain region, and the West Coast.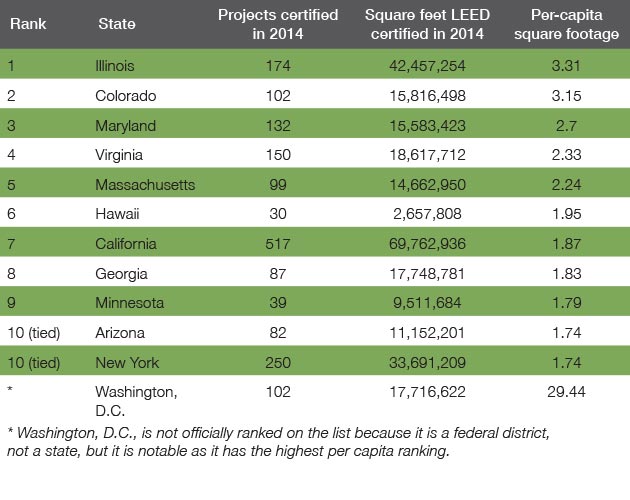 2014's rankings also show that this past year was a very strong one for LEED. The average per capita square footage among the states that qualified for the top 10 in 2014 was 2.24 — the highest average per capita since 2010 and second highest average that the index has ever had. Of the eight states that made the list in 2013 and 2014, six states—Illinois, Colorado, Maryland, Virginia, Massachusetts, and Hawaii—had a higher per capita of certified space in 2014 than 2013.
To learn more about this year's Top 10 States for LEED, visit usgbc.org.
New Global Real Estate Standard Launched
A new standard that will bring transparency and consistency to global real estate markets has been launched. The International Property Measurement Standard for Office Buildings (IPMS for Office Buildings) is the result of a global effort to create a uniform method for measuring property and is set to replace dozens of existing standards currently in use around the world.
IPMS for Office Buildings will lead to increased transparency and consistency across real estate markets that will allow buildings to be managed more efficiently and benchmarked more uniformly,
Historically, property has been measured differently throughout the world. According to research by global property firm JLL, depending on the standard used, the area quoted in different markets for an equivalent building could vary by up to 24 percent.
The work to create this new global measurement standard has been spearheaded by a Coalition of more than 50 professional organizations, including BOMA International.
For more information, visit http://ipmsc.org/standards/office/
K-12 Schools Moving Ahead on Solar Power
According to a new study from the Solar Foundation and the Solar Energy Industries Association, America's K-12 schools are among the fastest adopters of solar power in the United States, with an estimated 3,000 new solar installations coming online between 2008 and 2012, a five-fold increase.
In total, the output from 3,752 solar-equipped schools is about 490 megawatts, enough to power tens of thousands of classrooms while offsetting nearly 443,000 metric tons of carbon dioxide emissions annually, according to the survey.
California leads the charge, with 963 schools producing 217 MW using solar panels, according to the analysis. That is roughly the amount generated by a utility-scale power plant. New Jersey and Arizona follow in terms of total solar generation from school sites, with 91.4 MW and 66.2 MW, respectively, according to the report.
Continue Reading:

Green Building Report

Targeting Occupant Behavior for Energy Savings

Power of Group, Leaders Can Drive Energy Savings

Focus on Barriers to Change and Study Your Buildings

Top 10 States for LEED Show Market for Green Building Gaining
---
---
---
Related Topics:
Comments