Top 10 LEED States Show Continued Commitment to Healthy, Green Buildings
Last year was fraught with challenges, but green building commitments continued and are reflected in this year's Top 10 States for LEED released by the U.S. Green Building Council.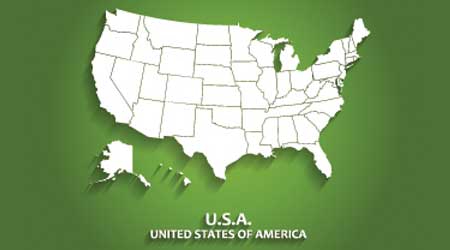 The repercussions of a tragic and chaotic 2020 continue to be felt across every market and every sector of the economy. The compounding economic and health challenges coupled with the intensifying impacts of climate change sent building professionals a clear directive for the future: focus on healthy, resilient, and equitable green buildings.
Tenants, managers, investors and other stakeholders are familiar with how green buildings can support financial and business objectives, but the past year reinforced why the environmental, social, and human health benefits should be a central part of decision-making. From a climate perspective, 2020 tied for the hottest year on record and disaster costs in the U.S. almost doubled from 2019 reaching $95 billion. Considering the risks climate change continues to pose alongside a heightened need to enhance resilience and support human health, certification programs like LEED become essential for businesses.
Certified green buildings build trust and accountability, which becomes crucial as people consider returning to offices and other spaces. "Everyone's trying to figure out how to come back from COVID-19 and re-enter their spaces," says Drew Shula, founder and CEO at Verdical Group, LEED AP and a 2020 LEED Fellow. "A lot of questions have come to us as the sustainability team member on the design team and because we're involved with these rating systems and tools, we can help make these spaces healthier and more sustainable."
Last year was fraught with challenges, but green building commitments continued and are reflected in this year's Top 10 States for LEED released by the U.S. Green Building Council.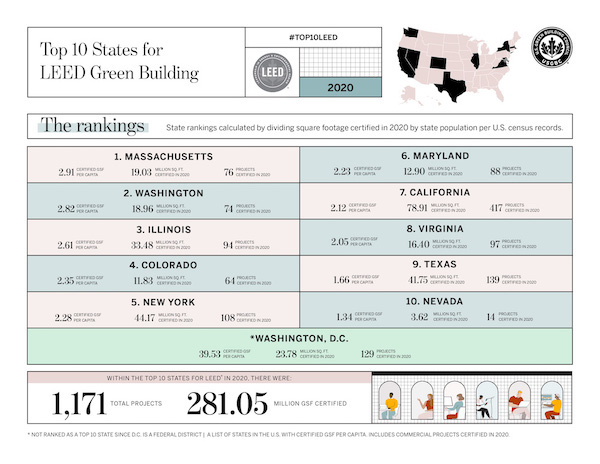 A remarkable story of resilience from last year is the state of Washington. Amidst the staggering challenges it faced, its building professionals still managed to certify more projects than it did in 2019 catapulting it an incredible ten spots from No. 11 to No. 2 just behind Massachusetts. It's a signal that the Evergreen State's building professionals are doing more to prioritize healthy, green, and resilient strategies that support its communities.
The 2020 Top 10 States represent more than 1,170 certifications and more than 280 million gross square feet of certified space. They are home to nearly 130 million people, each of whom deserve to know their office, apartment and favorite local spots are meeting high green building standards that support their health and the health of their community.
Sustainability along with health, resilience and social equity are embedded in LEED. Last year in response to the pandemic, new guidance to support teams was added in the form of Safety First pilot credits. The flexible and holistic nature of LEED and LEED v4.1 is why it remains the predominant certification for verifying and recognizing green building leadership.
Looking ahead, the challenge to the market will be to get all buildings on the path to certification. Supporting and incentivizing green building through better policies, as well as tools like Arc and online education and events are priorities for USGBC as it works to continue driving momentum.
Accelerating this transition also requires a knowledgeable workforce. As part of its Top 10 rankings this year, USGBC introduced a list of states leading when it comes to LEED green building professionals. Based on the total number of active LEED professionals, these states closely mirror the previous rankings with the addition of Florida and Pennsylvania. They are home to more than 100,000 green building workers who are critical in helping the industry transform.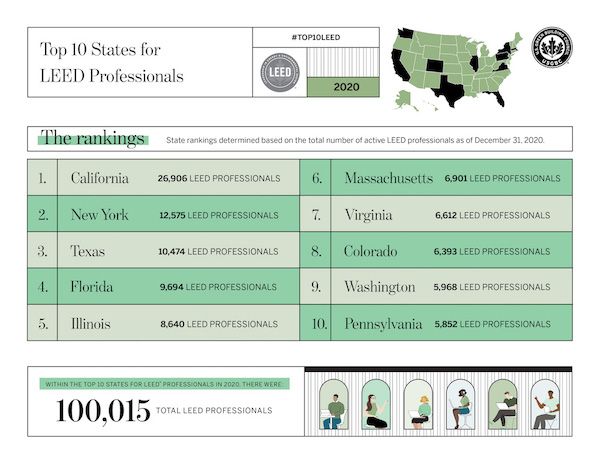 Building teams can register projects to pursue certification and learn more about LEED professional credentials at usgbc.org.
Sarah Stanley is director of communications for the U.S. Green Building Council.
---
---
---
Related Topics:
Comments