SIDEBAR: Innovative Building Systems Are Hallmarks of PNC Tower
Part 5 of a 5-part article profiling the high-performance PNC Tower in Pittsburgh.
OTHER PARTS OF THIS ARTICLE
Pt. 1:
PNC Tower, World's Greenest High-Rise, Is A Study In Simplicity
Pt. 2:
High-Performance Building Envelope at PNC Tower Brings Efficiency
Pt. 3:
Even Most Efficient High-Performance Buildings Require Constant Monitoring, Tweaking
Pt. 4:
SIDEBAR: Mock-up Plays Key Role In PNC Tower Design
Pt. 5: This Page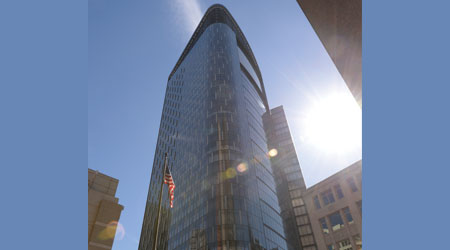 A range of innovative building systems have been incorporated into The Tower at PNC Plaza. Here is a look at some of them, based on information from PNC and the design team:

Daylighting: Narrow floors allow an estimated 91 percent of the building to be lit by daylight. Light colors on ceilings and walls reflect natural light onto desks and into the building. Lighting controls reduce or shut off overhead lights if natural light is sufficient.
Horizontal blinds and roller shades adjust automatically, while keeping direct sunlight out. The slats in the blinds reflect the sun's heat and release it into the building's double-wall cavity, diverting it from the building and reducing air conditioning costs. In the winter, the blinds close further to prevent glare. The software program that controls the blinds and shades reads the sun's position and monitors the sky for clarity or cloudiness.

Radiant heat: The boilers heat water (to a maximum of 140 degrees) that is sent to the tower's radiant panels and radiant floors. Radiant panels in the ceiling consist of copper tubes through which hot water flows to warm the spaces and people below. The panels are strategically located at the building's perimeter to counteract any heat loss from windows and to deliver heat only where needed. In the building's lobby and 28th-floor atrium, both heated and chilled water (depending on the season) is run through tubes in a radiant floor, turning the floor slab into a thermal mass.

Chilled beams: The chillers cool water for distribution through chilled beams in the ceiling. "I can move water much less expensively than I can move air," says Paul Fusan, PNC's critical systems expert. As air in a room gains heat from people and equipment, it rises to the ceiling, where it passes over the chilled beams and naturally cools.

Elevators: The elevator system uses steel cables looped around a pulley, an electric motor, and — to reduce the motor size and hence energy demand — a counterweight which counteracts the weight of the car and its passengers. When the motor is not needed to move the cab — i.e., with a less-than-full ride going up or a full ride going down — the motor turns into a generator and creates power that feeds into the building's power grid.
Continue Reading:

COVER STORY: Tower at PNC Plaza

PNC Tower, World's Greenest High-Rise, Is A Study In Simplicity

High-Performance Building Envelope at PNC Tower Brings Efficiency

Even Most Efficient High-Performance Buildings Require Constant Monitoring, Tweaking

SIDEBAR: Mock-up Plays Key Role In PNC Tower Design

SIDEBAR: Innovative Building Systems Are Hallmarks of PNC Tower
---
---
---
Related Topics:
Comments