You Might Like
On FacilitiesNet
Providing Safe Water to Occupants Requires Vigilance
Managing and monitoring a building's water quality is a crucial charge for facility managers. Here are some tips and best practices.
Providing safe, clean water to facility occupants is a baseline requirement for facility managers. Proper hydration is the foundation of human health, and access to safe water is a basic right.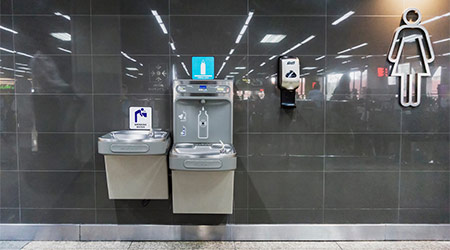 Still, many of us are unaware of the water body that provides our drinking water and the sophisticated system that delivers that water to the sinks and drinking fountains in a facility.
It's easy to take for granted that water from the sink is safe, says Stuart Shell, associate principal and Fitwel ambassador at BranchPattern.
"When systems are complicated and hidden, there is more risk of problems going unnoticed," says Shell. And while the health and well-being of a building's occupants is paramount, an additional benefit of managing a building's water quality is the extended life of the building's plumbing infrastructure.
Why water quality matters
Responsibility for checking that water is safe to drink and is of the proper quality falls to several roles, including the facility operator and the utility provider. This is especially important given the possibility of new ecological contaminants and heightened awareness of public safety threats, as well as the top-of-mind sanitation initiatives that are now expected due to the recent pandemic.
The greatest threats from poor water quality and poor access to quality water are loss of public and community trust, litigation, and ethical and moral considerations, especially for underserved communities and susceptible populations, says Francine Locke, chief sustainability officer at the County of Delaware. She points out that if drinking water is perceived as unsafe or of poor quality, or if the building's infrastructure is outdated and unappealing, building occupants will not drink the water. This results in distrust in the facility and damages the facility manager's reputation.
"If there is an actual safety issue, e.g., elevated lead in water, susceptible populations may become sick and suffer irreversible health conditions," Locke says. "This results in a financial and possibly criminal liability issue for the building owner and/or facility manager."
What's more, in an education or workplace environment, facility occupants' productivity suffers without access to high-quality drinking water. As Locke explains, if there is limited access to appealing and accessible drinking water sources, such as bottle filling stations with chilled, filtered water, occupants will not hydrate during the day.
"For K-12 schools, this is particularly important," Locke says. "The perception of safe, accessible, and appealing drinking water can result in an increase in hydration, which supports productivity and well-being. In residential facilities, this poor water quality can cause serious health effects to infants who may drink formula that is prepared from tap water. This is a moral, ethical and legal consideration."
There is an environmental issue at hand as well, says Gary Kannenberg, principal and environmental scientist at The Tellus Group. For instance, if the facility does not provide good water then employees will bring bottled water, which is a tremendous waste of plastic that is generally manufactured from fossil fuels and has a large greenhouse gas component.
"It also has a very large 'fate in the environment' component — that single use plastic water bottle will not decompose," Kannenberg says.
---
5 Preventive Measure for Drinking Water Systems
Francine Locke, chief sustainability officer at the County of Delaware, recommends facility managers add the following preventive measures to their drinking water system maintenance program.
1. Develop a routine flushing schedule for all drinking water outlets, including kitchen faucets and icemakers.
2. Develop a water outlet softener screen maintenance program to ensure that debris that could contain lead is removed on a routine basis.
3. Create a routine water filter change-out schedule for all outlets with filters, such as bottle-filling hydration stations.
4. Perform annual testing of drinking water outlets for lead per the EPA 3Ts approach.
5. Post all water testing results, both lead in water, and public utility water supply testing near outlets, in a main community area and/or on the facility's website for public view.
Continue Reading:

Water Quality

Providing Safe Water to Occupants Requires Vigilance

Steps to Take to Ensure Facility Water Quality
---
---
---
Related Topics:
Comments