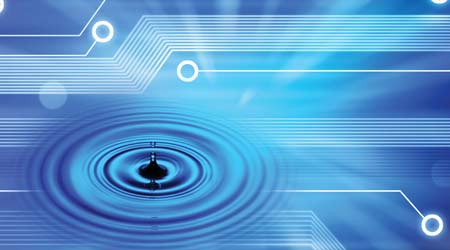 Location, Building Type Impact Water Use
These factors play a critical role in the best opportunities available for reducing water use cost-effectively and quickly.
Water use is impacted by geography — most notably in terms of landscape irrigation. The hotter and dryer the climate, the more water is needed to maintain a landscape of similar design, size, and plant type selection. For schools that have irrigated landscape, especially high schools with irrigated athletic fields, irrigation can equal a third or more of total use. Again, this will vary widely across the nation.
Boiler use for heating is higher in facilities in cold climates, but even then is typically in the 5 percent range of total annual facility use. By contrast, cooling tower use shows significant variation by both geographic location and type of facility. Based on ASHRAE information on full load equivalent hours of cooling for various types of facilities across the nation, a typical chilled water – cooling tower type air conditioning system operating at four cycles of concentration will need about 2.46 gallons of water per ton hour (based on chiller tons of 12,000 BTUs per ton hour which equals 15,000 BTUs per ton hour for equivalent cooling tower load).
Conversely, toilets, showers, food service equipment, medical equipment, etc., are not geographically dependent with respect to water use per person. There may be a few more showers occurring in hot and humid climates, but the data shows a significant degree of consistency from one part of the nation to another.
Schools, hotels, and office buildings use different percentages of their total water consumption for "domestic" purposes — primarily in the restrooms. The range shown for hotels reflects the type of facility, i.e., a small motel compared to a large convention hotel. Schools vary by type: elementary, middle, and high school.

A study based on more than 170 water conservation audits conducted in Dallas, Austin, and Fort Worth, Texas, shows that for facility types except hotels/motels, toilet water use predominates. As to be expected, shower water use represents a large percent of hotel/motel water use. This is important because it is energy-intensive to heat water for shower use. The other category of significant water use in hotel/motel is primarily mop sinks and special wash basins or bidets.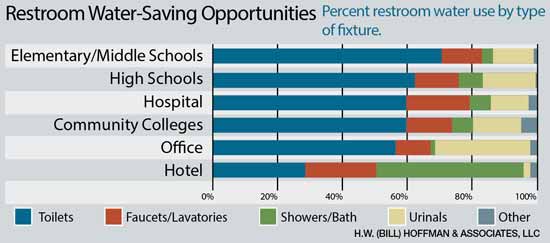 Continue Reading:

Water Efficiency

How To Use New Technology To Benchmark Water Use

Location, Building Type Impact Water Use

National Water Use Benchmarks Provide Key Insight For Efficiency Efforts
---
---
---
Related Topics: