LEED v4.1 Sets the Tone for the Future of Green Building
LEED continues to move the market forward. Here's how LEED v4.1 will push the envelope of green design, building, and operations even further.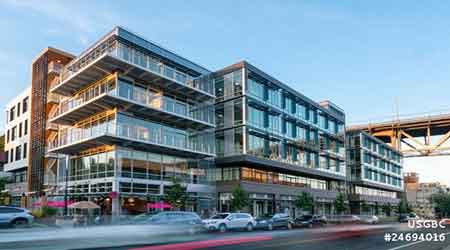 For nearly 20 years, LEED has been the de facto leadership standard for green buildings. It has emphasized continuous improvement through version and rating system updates and is designed to keep the industry moving forward. The latest version, LEED v4.1, raises the bar once more with a series of updates that prioritize ongoing building performance monitoring. In January 2019, USGBC opened registration for new construction and interior spaces with LEED v4.1 BD+C and LEED v4.1 ID+C. USGBC had previously opened registration for LEEDv4.1 O+M.
As green building strategies and practices evolve, LEED remains a best practice for all buildings and spaces. The U.S. Green Building Council (USGBC) recently announced the Top 10 States for LEED, recognizing states with the greatest amount of newly certified square feet per person in 2018. Home to more than 128 million Americans, these states collectively certified more than 468 million gross square feet of space. Illinois took the top spot with more than 5.31 square feet of LEED space per person added in 2018. Washington and Texas also returned to the list securing the highest rankings in each states' history at number three and number five respectively.
All told, 1,826 LEED-certified buildings — from elementary schools, and universities to offices, animal welfare spaces, and hospitals — were represented across the top 10 states. These diverse spaces demonstrate that LEED is not only being used to lower energy costs and conserve water and resources, but is encouraging decisions that improve the health and wellbeing of both the people inside the building and the community around it.
Improving the building and beyond
Last year, the DATA 1 Fremont office building in Seattle achieved LEED Gold. The building is an evolving urban mid-rise office within a neighborhood retail area. The comfort and productivity of those inside the building inspired robust daylighting and ventilation strategies, resulting in a courtyard building with operable windows.
Prior to development, the adjacent street was an eyesore — poorly lit, damp, and forgotten. Bridge downspouts splashed toxic runoff onto the sidewalk and directly into Lake Union, polluting a major salmon-spawning route. In response, the team designed a series of innovative bio-retention cells stepping down the hillside, cleaning approximately 200,000 gallons of polluted stormwater annually. The project is now Salmon-Safe certified and links site development and land management practices with protection of agricultural and urban watersheds. The hill climb also has several public terraces and a dedicated bicycle entrance, from an adjacent bike trail, leading directly into a 5,000-square-foot bike storage, shower, and locker room facility. The design centers on people and community, not only providing a high-performance space for occupants, but finding ways to better their world beyond the building.
LEED's ability to support health and communities continues to grow and a survey in 2018 indicated that employees in LEED-certified office buildings are happier, healthier, and more productive than those in non-LEED buildings. Seventy-nine percent of survey respondents said they would choose a job in a LEED-certified building over one in a non-LEED building. The relationship between buildings and people is a clear priority when it comes to green building.
As building owners and managers focus on what is next and how to continue to provide benefits to tenants, understanding impact and performance will continue to play a vital role. LEED v4.1 is an opportunity to lead the market on those fronts. The rating system update allows projects to earn points through building performance monitoring, scoring, and analytics powered by Arc. Performance outcomes are fully integrated so that buildings can measure performance on an ongoing basis and are prepared when it comes time to recertify.
LEED has always been focused on strong environmental performance, which leads to economic prosperity, better quality of life, and improved human health and wellbeing for all. With the introduction of LEED v4.1, project teams for new construction, interior spaces, and existing buildings can put people and performance at the heart of their buildings and the communities they create. Registration is currently open.
---
---
---
Related Topics:
Comments