Knowing and Designing For Your Occupants
Last part of a 3-part article exploring what is needed beyond technology to achieve high-performance buildings
OTHER PARTS OF THIS ARTICLE
Pt. 1:
Training Staff, Occupants to Reach Sustainability Goals
Pt. 2:
Creating a Facilities Environment Inviting to Technology
Pt. 3: This Page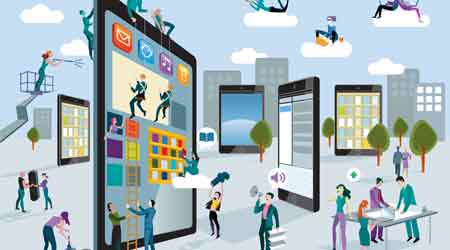 The truth about smart, high-performance buildings is that they cannot be successful without managers knowing the occupants, understanding how they are using the space, and educating the community on how their actions will help meet the long-term goals of the facility. The evolution of workplace mobility is occurring rapidly, and engaging the occupants is one of the single most important success factors in the global push to save energy and reduce operating costs.
For example, providing occupants the ability to consume only those utilities they require, rather than powering up everything they may or may not engage with on a daily basis, will improve the facility's performance. This could be called "smart occupancy." It's important to understand the typical work styles of occupants and what percentage of time the space is fully, moderately, or minimally occupied.
When occupants are on site, do they spend their time at assigned desks, in formal meetings, participating in informal conversations with one individual, or in small groups? Does the culture of the organization support a mobile work environment with telework policies and mobile devices (laptops, WiFi accessibility, etc.)?
"'Smart occupancy' is a great term," says Bob Peck, director of consulting for Gensler's Southeast Region. "We also need detailed data about time spent on different tasks and on individual and collaborative work, mobile or tethered work. That drives how much space the occupant needs and how it should be laid out to create a high-performing workplace." Understanding these issues and equipping the occupant with the option to control the space not only changes the results, but improves occupant satisfaction.
Answering these questions up front will drive intelligent decisions on how space is designed and operated. Consider the use of shared workstations and collaborative space, building operating hours, and unoccupied areas in the building that might be "shut down" for certain periods to reduce HVAC and electricity use and costs. Increasingly, we realize that performance in energy and water efficiency, waste diversion, improved human health, and quality of living are only in part a function of a facility's technologies. The most significant impact comes from occupant behavior.
Occupants in Mind
A building system or program is only effective if it is implemented and used properly with the occupant in mind. Models and calculations may serve as valuable tools, but they don't tell the whole story. Automated lighting controls can provide significant energy savings, but savings will evaporate if the building occupants override the controls due to a gap in understanding how they operate. For a building to perform well over time, it is imperative that the sustainable technologies and initiatives are aligned with how building users will interact with them.
To achieve optimal results from a high-performance smart buildings program, employ occupant engagement strategies early in the smart building process in order to influence tenant behaviors. The right strategy should leverage information, drive accountability toward priorities, and capture the attention of a broad audience. This will increase tenants' awareness and ownership of their building's performance in terms of functionality and sustainability while also delivering savings.
Smart and high-performance buildings are more than a technology upgrade; they provide an opportunity to realign the entire real estate operations toward greater efficiency. Selecting the right experts who understand smart buildings, smart occupancy, and smart workforce strategies will maximize technology investments by investing in the people. These new operational norms begin with an organization's top stakeholders and move all the way through to its most valuable asset, the tenants. It is a three-dimensional approach of technology, buildings, and people.
Propagating new norms is more than installing technology, solar, or a building automation system. It is about transforming how the workplace functions, how facility operators manage workloads, how leadership collaborates and develops career paths for the future, and how data gets transformed into knowledge. To get your smart buildings program to achieve the desired results and move your organization into the future of facilities operations, you need a comprehensive smart buildings strategy that includes not only the technology but also a change management plan that is focused on the people. Get the strategy right up front, and watch your technology investments deliver results.
Lawrence Melton is CEO of The Building People, and an industry expert on real estate and facility management. Charles Dilley and Linda Osgood are managing directors at The Building People.

Continue Reading:

Greening Existing Buildings

Training Staff, Occupants to Reach Sustainability Goals

Creating a Facilities Environment Inviting to Technology

Knowing and Designing For Your Occupants
---
---
---
Related Topics:
Comments