Is the Passive House Standard Applicable to U.S. Climate Zones?
The short answer is 'yes,' say experts. As evidence, a range of building types in a variety of locations are now using the Passive House standard to foster efficiency.
OTHER PARTS OF THIS ARTICLE
Pt. 1:
Passive House Standard Gains Ground in Commercial Building Market
Pt. 2: This Page
Pt. 3:
Passive House: Cost and Certification Considerations
Pt. 4:
How Passive House Leads to Net-Zero Energy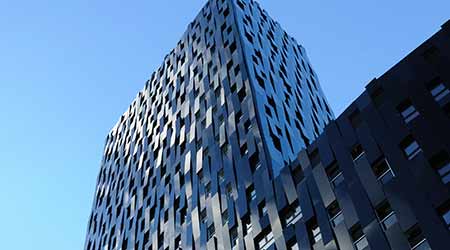 © Varquitectos
The original German standard generally performs well in most buildings located in drier, heating-dominated climates, but opinions differ on how well it is suited to the diverse U.S. climate zones.
"Yes, [it will work] without any limitation, says Frisque. "This is evident in the range of building types and climates that we are seeing in the latest Passive House projects — from high-rise residential in New York City to low-rise multi-family developments in Hillsboro, Oregon." She points out that Passive House is not one specific prescriptive design, but rather a design approach with specific energy metrics.
Purcell says that the standard works best in colder, dryer parts of the country. In temperate areas like the West Coast, where mechanical heating and cooling are less necessary, achieving the standard isn't a big improvement over local building code.
"The short answer is yes, Passive design principles improve energy performance in all climates, and PHIUS certification targets can be met in all U.S. and Canada climate zones," she says. "PHIUS-certified homes and small commercial buildings, plus a few larger residential projects, exist all over the country. Essentially, we can design to meet the standard in any climate. But in many of the cities we've studied that design is not going to be realistic on the ground."
In the Southeast, she says, "where air conditioning drives energy consumption, we're finding that we need to incorporate less realistic or costly measures like high fritted glass area to even get close to the target," she says. "Our hope is that this research can inform updates to the PHIUS standard and make it a better fit for large buildings and all climates."
The bottom line, according to experts: While the criteria of high levels of energy efficiency and building design quality are constant across the building types, the design strategies and building energy approach vary with climate and application.
This variance is why the 2015+ Passive House certification standards was developed. The standard accounts for the broad range of climate conditions, market conditions, and other variables in North American climate zones. Obviously, building type and organizational requirements are other variables in the certification process.
PHIUS+ 2018 updates PHIUS 2015+ and will eventually replace the older standard. This update focuses on adding more nuance for different building types, and supporting an overall transition to renewable energy.
Commercial and Institutional Buildings
The PHIUS standard has been tested and proven on residential construction, but is increasingly gaining a foothold among owners of commercial and institutional structures in the United States.
"Just a handful [of commercial and institutional buildings] are PHIUS certified at this time, but no large-scale commercial or institutional buildings," says Purcell.
A quick scan of the PHIUS database shows that the largest office or school buildings that are certified or pre-certified are approximately 20,000 square feet. The basis for much larger construction clearly exists, however, as several multi-family residences top the 150,000-square-foot mark.
SCB is working on a large commercial office building in Chicago's West Loop neighborhood that hopes to be the first to earn the certification.
Continue Reading:

Passive House

Passive House Standard Gains Ground in Commercial Building Market

Is the Passive House Standard Applicable to U.S. Climate Zones?

Passive House: Cost and Certification Considerations

How Passive House Leads to Net-Zero Energy
---
---
---
Related Topics:
Comments