You Might Like
On FacilitiesNet
Innovative Strategies in Health and Wellness Design
Promoting flexibility, choice, and control increases occupants' "sense of agency" in a space. This leads to higher engagement and better productivity.
OTHER PARTS OF THIS ARTICLE
Pt. 1:
Occupant Health and Wellness Takes Center Stage in Sustainable Design
Pt. 2: This Page
Pt. 3:
WELL and Fitwel Rating Systems Focus on Health and Wellness Outcomes
Pt. 4:
Big-Impact Health and Wellness Strategies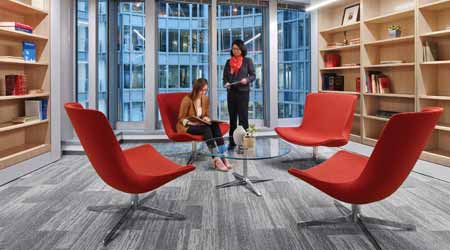 © Eric Laignel, courtesy CallisonRTK
The real innovation is taking wellness beyond compliance solutions, like random walkstations or scattered fake plants. Designing for well-being is moving beyond what looks good in favor of what works well. When designing to attract fresh talent, it can be tempting to fall into the trap of a millennial-friendly or Gen-Z-centric workplace. While there's value in appealing to younger generations, taking a truly human-centered approach to the workplace means considering all user groups in design and operations. This might mean emphasizing natural light while simultaneously providing individually adjustable task lights or providing ergonomic tools and training to support employees on the job. Promoting adjustability, choice, and control through design and operations can increase occupants' sense of agency, increasing interactions with the environment and leading to higher levels of engagement and productivity.
And lest anyone think well-being is just lip service for recruitment purposes, the research shows that supporting employee wellness helps engage and retain existing employees and decreases instances of absenteeism and presenteeism, mitigating risks to physical and mental health while contributing to positive organizational culture. Companies are increasingly using their spaces as extensions of identity and brand, creating environments that look good and make occupants feel good. The workplace is not just an empty space filled with desks; instead, the workplace can speak volumes about an organization, its mission and values, and its commitment to employees.
Every organization seeks to increase engagement and productivity, but the associated solution might look different from one organization to another. Companies like Amazon and Google are known for bright, lively workplaces, filled with plant life and sound-absorbing havens, but these are far from universal solutions. Systems like WELL allow organizations to determine priorities and develop scalable solutions to target occupant well-being in their spaces. Involving stakeholders in key design and operations decisions can also allow organizations to target effective design and operational solutions.
Continue Reading:

Interiors

Occupant Health and Wellness Takes Center Stage in Sustainable Design

Innovative Strategies in Health and Wellness Design

WELL and Fitwel Rating Systems Focus on Health and Wellness Outcomes

Big-Impact Health and Wellness Strategies
---
---
---
Related Topics:
Comments