Hospitality Industry Moving From Words To Action When It Comes To Sustainability
Over the last few years, much of the industry has moved from words to action, says Bob Holesko, vice president, facilities, HEI Hotels and Resorts, which manages 43 hotels in 16 states under the Marriott, Starwood, and Hilton brands. As customers and employees have become savvier, simply saying that facilities are sustainable — as long as nobody looks too closely — isn't enough. Hotels have to be able to demonstrate that their sustainability efforts are actually having an effect.
"All the main players have sustainability objectives and programs in place that are valid," as opposed to the "greenwashing" that occurred in the past, Holesko says. "They are stated goals and they're based on measuring the data that's available, so there's no more faking it. You either are reducing your carbon footprint or you're not. You're either benchmarking or you're not."
One of the key changes has been the ongoing expansion of usage of the Energy Star Portfolio Manager program, which gives facility managers the ability to not only track energy use across a portfolio of facilities of different sizes in different areas, but compare those facilities to similar facilities to see how they are performing. As of September 2012, more than 1.8 billion square feet spread across more than 9,000 hospitality facilities was being tracked in the program, giving facility managers an in-depth data set to use for comparison purposes.
"The No. 1 thing I check when we take over a hotel is, 'Are you on Energy Star Portfolio Manager?'" says Holesko. "There's no cost to that program. If they say 'no,' then they have no way to measure their results. If you're not measuring it, if you're not tracking it, you have no way to determine what you're doing."
Tracking usage not only helps identify areas for improvement, but also helps justify investments to improve efficiency, says Michael Bendewald, consultant, Rocky Mountain Institute.
"What you've got to do up front is say 'OK, this is what I want to do in my building. This is the purpose of gathering this data, and this is the analysis I want to do with that data,'" he says. From there, data can also help make the argument for capital spending on something like a chiller by showing the extra benefits from replacing it, even if it's early, Bendewald says.
From a capital standpoint, data doesn't just help facility managers make the argument for a big investment. Smaller, yet still expensive equipment can have a big payoff, says Leslie, but a facility manager has to be able to demonstrate the savings. In his case, peak demand charges in Las Vegas are extremely high, so investing in variable-frequency drives (VFDs) on two of the six chillers at the Mirage helped mitigate some of those costs.
"When you start a 1,500-horsepower motor," during peak demand, Leslie says, "you're going to have a $10,000 addition just for that one start."
With the VFDs, the chillers can be started slowly when needed during peak demand times. As Leslie says, if firing up a chiller at full bore is equivalent to flooring your car and using the brakes to control your speed, VFDs allow you to actually manage the acceleration with the gas pedal. That flexibility has led to substantial savings.
"It would normally cost about $1,800 a day to run one of those machines," he says. "By coming up with our own controls and adding this machine to a couple of our chillers, we've been able to save about $20,000 a month off our electrical bill with just two of these machines with drives on them."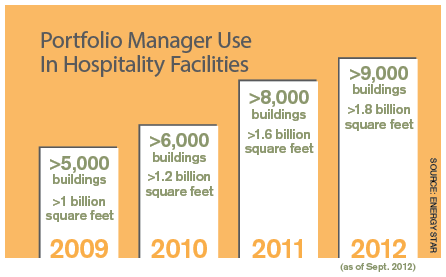 Continue Reading:

From Guest Demands To Dolphin Tanks, Hospitality Facilities Face Challenges Going Green

Hospitality Industry Moving From Words To Action When It Comes To Sustainability

Hospitality Employees Play Big Role In Sustainability Efforts

In Hospitality Facilities, Facility Managers Find Many Ways to Improve Sustainability
---
---
---
Related Topics: