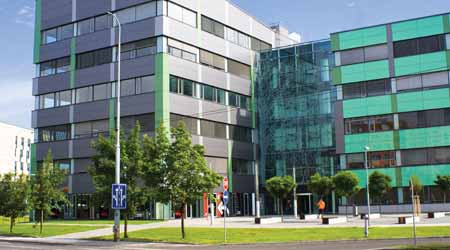 'Green Lease Leaders' Program Recognizes Successful Green Leasing
The Green Lease Leaders program sets the standard in the industry for how to do green leases successfully.
In 2014, the Institute for Market Transformation and the U.S. Department of Energy's Better Buildings Alliance launched the Green Lease Leaders program, which set a bar for what makes a green lease, and as of 2018 revised its standards that are included in the Green Lease Leaders Reference Guide for Landlords. Since its inception, Green Lease Leaders has recognized property owners, landlords, tenants, brokers, and real estate teams that represent over 1.8 billion square feet of space for their green lease practices. An inaugural Green Lease Leader, The Tower Companies, has been executing green leasing practices in their buildings for more than a decade. Tower's lease encourages better occupant behavior to save energy and water, requires tenant real estate professionals to obtain industry-recognized training such as LEED, and improves access to tenant utility data for managing and measuring performance (known as benchmarking).
Reference materials and guidance for beginning with green leases can be downloaded for free.
Continue Reading:

Green Leasing

How Green Leases Help Achieve Green Buildings

How to Get Started with Green Leases

'Green Lease Leaders' Program Recognizes Successful Green Leasing
---
---
---
Related Topics: