Going Beyond Green: The Evolution of Sustainability in a Post COVID-19 World
The pandemic has shown how sustainability in facilities must evolve to also include health and wellness strategies for building occupants.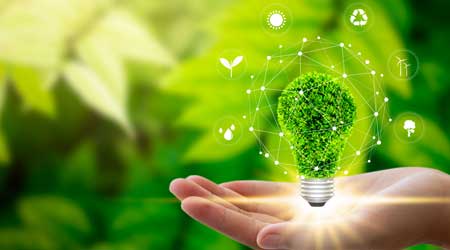 While COVID-19 has brought much despair, it's also worth noticing the many new beginnings that the first half of 2020 has brought: Perhaps most notably are the glimpses of environmental repair and the renewed focus on health and wellness, both in the workplace and in the work-at-home environment.
Fresh water, cleaner air, and smog-free city skylines have all been a part of this reduced-activity era. And while these signs of environmental repair should be understood as fleeting — temporary consequences of reduced activity rather than long term stand-ins for true solutions — they're important determiners of the shifts and trends that will influence our new normal.
As a return to activity is re-imagined and reconsidered, sustainability is quickly becoming the new north star. The pandemic has reminded people that our actions are interdependent, and that changes to our routine can benefit our mental state and our physical world. As building professionals and facilities managers re-engage with tenants, striving to fulfill new needs and attract demand in this new market, decisions should be made with sustainability as the primary priority. And after watershed events like this pandemic, the human side of sustainability is equally important.
The New Benchmark of Building Quality
The role of facility management is evolving in real time. The COVID-19 market repair era will require facility management professionals to be strategic overseers with a lens for long-term outcomes. In this season of change, all built environments will require careful reconsiderations, and it will fall to facility management to promote a building culture that stands on the pillars of safety, quality, and efficiency.
Although consumer demands are changing like never before, there's been enough time elapsed for market research to indicate some solid trends, not the least of which is the consumer prioritization on green buildings. It seems to be official: people are no longer willing to sacrifice the environment for their day-to-day comforts. Matters of building policy have become public discourse. More investors are requesting Global Real Estate Sustainability Benchmark (GRESB) reports, and sculpting their portfolios around GRESB standards. Tenants themselves have adopted that same language, asking about WELL standards and basing their decisions on the ins and outs of sustainable solutions.
To satisfy returning employees, or to convince prospective employers to invest in a building instead of continuing with the comforts of at home work, facility management professionals will need to demonstrate a financial commitment to sustainable solutions. This will be the new market currency, and the new benchmark of building quality.
Going Green: First Steps
A great place to begin might be with an audit of an existing building. An audit makes it clear which systems might be leaking energy, or which assets are coming at the greatest environmental cost. It's easy, then, to track energy consumption across seasons, usage, and occupancy situations.
With data from the audit, the next step is to address the energy leaks and make the repairs and substitutions, prioritizing the assets that will make these facilities more environmentally neutral. Another easy step is to devote these projects, along with all future facility repair and maintenance to green-focused contractors. Not only will they offer their experience, sustainable contractors will use clean products and energy-efficient tools. They are more likely to be familiar with the low-energy systems that are in place, and might be able to offer guidance regarding other improvements that would make a facility more green.
In older buildings, assets were designed with no aims of environmental subtleties. Choice of materials, energy allocations, and other decisions were often at odds with greener priorities. Certain building assets will undoubtedly need replacement to have a fighting chance at a passable carbon footprint. HVAC units and window technologies, insulation strategies, motion-sensor lights with automatic turn off are all great beginning investments. Larger projects, like switching to solar or geothermal energy sources, should also be considered. Green roofs can help trap heat and lessen the load on other energy sources. Smart meters can keep owners and facility management professionals aware of and able to manage rates of energy consumption. All of these are great steps forward for older buildings, and should of course be part of the conception of new building designs moving forward.
And while it may seem smaller in comparison, recycling practices can go a long way for establishing a greener operation. This step can still require significant investment and planning, and it can be an object of awareness all the way from building design to tenant practices. Building with materials that are able to be repurposed, or that are the repurposed products of other materials, is a great way to start. Educating tenants and making recycling opportunities easy to access is another way to carry through. This education should include a system for materials that need to be recycled separately: fluorescent lights, batteries, and refrigerant. In the long run, the culmination of these actions will reduce C02 emissions and prevent waste build up in landfills and oceans.
While these investments all pose significant financial barriers at the outset, they are investments that will be rewarded invariably across all buyer, tenant, and investor interactions. Soon, the choice to invest in green building may not be a choice at all, and it's far better to join the frontier of the movement than to play a game of market catch up.
Mental Health as a Limited Resource
With remote working and the management of a global health crisis, the professional world has become more entangled with the personal realm. Employers are more devoted than ever to supporting the physical and mental health of their teams. Facilities managers who are able to offer tenants easy ways to provide wellness programs, boost team productivity, recruit top talent and reduce the rate of workplace illness will garner huge attention in the post-COVID health and safety economy.
After associating some of the comforts of home with the re-imagined work day, returning employees have higher expectations when it comes to building amenities. Converting spaces into meditation pods, finding ways to make fresh air and outdoor oases closer to inside, and making room for integrated workout spaces should be the priorities of building adaptations, and the main focus of new designs.
Next, the extent to which people's anxieties around returning to in-person activity can be assuaged will be a key determiner of workplace satisfaction. While it's a given that facilities managers will need to provide high end cleaning solutions, it's worth noting that these solutions should be visible to tenants. Whether this is done through clear communication, signage directing the flow of traffic, daytime janitorial staff, or all of the above, the goal is no longer to address hygiene behind the scenes. When it comes to health and safety confidence, seeing will be believing.
Lastly, technology will be a crucial market differentiator, as building designs become more and more complex. Today's technology can offer employers the ability to monitor the use of common spaces, and to track and toggle visitor access in order to manage room capacity. Integrated apps can allow employees to reserve a meditation room, order a coffee without waiting in line, or inquire about the last cleaning of a common space. And the same technology can offer great benefits to facility management professionals, providing them the ability to track building efficiencies and even turn off forgotten hallway lights from the far away comforts of their own homes. Investing in a building-wide platform with these capabilities is in the class of tenant offerings that will soon become an expectation.
As this pandemic continues to catalyze change and adaptation, facility management service providers have the chance to get creative with sustainable solutions, to innovate on current practices, and to improve their building offerings. Green solutions are a sure bet when it comes to investments that are well rewarded, and it's important that facility management professionals consider sustainability as it relates to the planet and to its people. To emerge from a global crisis with healthier work practices and more environmentally friendly spaces in which to work would suffice as a textbook example of making the best of a bad situation.
Zain Jaffer is the Founder and CEO of Zain Ventures, an investment firm with over $100 million in assets under management.
---
---
---
Related Topics:
Comments