Facilities Respond to California's Drought
First of a 4-part article on how the state's facilities are reducing water use
OTHER PARTS OF THIS ARTICLE
Pt. 1: This Page
Pt. 2:
California Water-Use Targets Include Sprinklers, Water Reclamation, Landscaping
Pt. 3:
Better Design, Management, Technology Aid California Water Reduction
Pt. 4:
Dishwashing Efficiency, Xeriscaping Help Cut California Water Use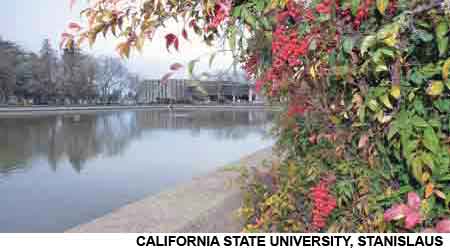 In the face of California's severe drought and a mandatory-water-reduction order from the governor, what's a facility manager to do? As it turns out, the state's facility and sustainability people have responded in many interesting and effective ways, including cutting way back on watering, installing new equipment with better design and technology, changing vegetation, feeding reclaimed water to cooling towers, and capturing rainwater and runoff for irrigation. In addition, communication initiatives at some facilities have aimed at making employees more conscious about water consumption and leak-reporting.
Many of these approaches were underway before Gov. Jerry Brown announced mandatory water-use cuts in April, but some were taken in direct response to it. In his April executive order, the first such action in the state's history, Brown directed the State Water Resources Control Board to impose a 25 percent reduction on the state's 400 local water supply agencies over the coming year. The agencies were directed to come up with water restrictions and monitor compliance.
One reaction that is not justified is throwing up one's hands in shock and desperation, in the eyes of Larry Morgan, senior facility manager at SAP, a big software company. "This drought cycle we're in right now is nothing new," he says. "In fact, there have been decades-long, severe drought periods in recent history. So it shouldn't come as a surprise, and if you do two things you will be better prepared for the next cycle: One is to submeter water (for that matter, all utilities), where physically and financially feasible, so you can manage the data. You have to have the baselines of what the consumption is related to. If someone says, 'Cut 25 percent,' and you don't know what it means, it's pretty tough to manage things. The second thing is, once you understand the baseline data, what can you realistically use it to do?"
Taking Action
At San Diego Unified School District, a facilities team huddled after the April edict and came up with a plan to significantly cut back on watering ornamental lawns, which are just there for looks, but to avoid hurting trees. "So there's a balance there. Some manual watering is done, but the majority is controlled through an irrigation control system," says Darin Vey, energy utilities program supervisor.
The district's 185 schools and 15 or so additional facilities mean there's a lot of lawn and plants to water. But largely through the reduction in irrigation, the district managed to cut its water use in half, when comparing mid-year 2015 to mid-year 2013, according to Vey and Tom Wright, whose duties include environmental compliance. Some district lawns have gone brown, others haven't, depending on the climate.
Continue Reading:

Water Efficiency

Facilities Respond to California's Drought

California Water-Use Targets Include Sprinklers, Water Reclamation, Landscaping

Better Design, Management, Technology Aid California Water Reduction

Dishwashing Efficiency, Xeriscaping Help Cut California Water Use
---
---
---
Related Topics:
Comments