You Might Like
On FacilitiesNet
Certifications and Standards Offer a Roadmap for Building Resilience
USGBC and GBCI rating systems and resources help facility teams fortify buildings and spaces in the face of growing climate risks.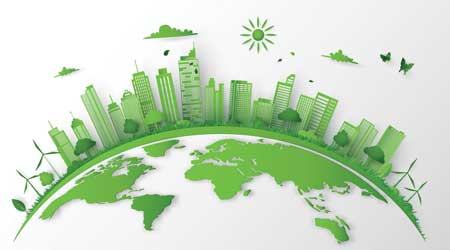 In October, the World Meteorological Organization and its partners released the 2020 State of Climate Services, a report showing that not only are the number of extreme weather and climate events increasing, but they are increasing in intensity and severity.
In the U.S., the cost of just 16 climate events this year from across the country reached more than $46 billion. Severe storms, drought, wildfires and other incidents are requiring facility teams to evaluate potential weaknesses and improvements that can make property's more responsive and adaptable to these kinds of situations. This sort of risk assessment is also known as resilience planning and focuses on how design, construction and operations can help a space better prepare and plan for, absorb, recover from and more successfully adapt to severe events.
To help facility teams identify methods for enhancing building resilience, the U.S. Green Building Council (USGBC) and Green Business Certification Inc. (GBCI) released a resilience brief outlining certification programs and resources that serve as a roadmap. It provides a holistic look at resilient strategies, while also offering specific guidance for enhancing landscape and power system resilience.
LEED
Green buildings drive resilience-enhancing design, technologies, materials and methods, so it should come as no surprise that LEED offers several options for integrating resilience, including a series of resilient design pilot credits. The rating system promotes resilient practices that include but are not limited to the use of durable materials, thoughtful site selection, rainwater collection, demand response and more. Credits and tools like the LEED Climate Resilience Screening Tool for v4 projects also help teams identify and address potential vulnerabilities.
RELi
RELi is a complement to LEED and takes a holistic approach to resilience, helping developers, companies, city planners and others assess and plan for acute hazards. The rating system's focus is on designing and constructing buildings to maintain critical life-saving services in the event of extended loss of power, heating fuel or water. In some cases, LEED credits can count toward RELi certification. A new professional credential is also in the works to support green building professionals in demonstrating proficiency in resilient strategies.
SITES
The Sustainable Sites Initiatives (SITES) has certified nearly 150 projects, including corporate campuses and universities, around the world. The certification focuses on recognizing regenerative landscapes and ecologically resilient communities. Land development is a crucial part of sustainability and resilience and is integral to protecting ecosystems and enhancing the benefits provided, such as climate regulation, carbon storage and flood mitigation.
PEER
Performance Excellence in Electricity Renewal (PEER) helps to connect the dots between sustainable buildings and sustainable, resilient and reliable power systems. The rating system provides a roadmap for designing and operating energy systems that are resilient in their ability to meet every day needs and mitigate the impact of climate risks. More than 30 projects have been certified including hospitals, universities and corporate campuses, transit stations and more.
Data & Technology
Data is the future of green building and the latest version of LEED, LEED v4.1, helps building teams focus more on performance data through Arc. It not only provides a streamlined, data-driven path to achieve certification, but Arc ensures projects are set up to continuously track and monitor performance. The value of data is also apparent when considering resilience and that is why USGBC is working with Coastal Risk Consulting to deliver a RiskFootprint for buildings, communities and cities that provides a climate risk analysis.
These certifications and resources from USGBC and GBCI outline how facility teams can identify risks and make improvements while signaling to tenants, investors and other stakeholders that a project is meeting the highest standards and best practices through certification.
Climate change will continue to alter communities, but the building and construction industry is uniquely positioned to help people and companies adapt to those changes. Ultimately, a healthy and sustainable future must also be a resilient one. Read the full resilience brief at usgbc.org.
Sarah Stanley is director of communications for the U.S. Green Building Council.
---
---
---
Related Topics:
Comments