Larimer (Colo.) County
CATEGORY: Sustainability
Overview
2015 Larimer County Courthouse HVAC Replacement Project
Project Planning
There were issues with the original construction and design that resulted in operational problems in maintaining sufficient building static pressure. These deficiencies impacted the operation of the building and translated to occupant and customer comfort issues that could not be solved with existing equipment. There are more than 400 employees and over 38,000 customer visits per month in this building.
This high profile project involved the replacement of four 75 ton cooling capacity rooftop units.
The existing units were nearing the end of their life cycle.
Larimer County and Rocky Mountain Trane collaborated to resolve these comfort and operational issues along with the intent of also increasing efficiency and reducing utility usage. Lofty goal, but you have to try.
Project Highlights
Project must be done on the weekend so that the building can remain operational during the week. The desire was to have the project done over two separate weekends (2 units replaced per weekend).
By the way, there was a city farmers market being held in the parking lot of this building during each weekend. To say the least, very strict coordination was required.
Units were fitted with Evaporcool systems that utilize evaporative cooling to the condenser to lower the entering air temperatures through the coils , resulting in better and more efficient cooling performance.
A water sub-meter was also installed to allow Larimer County to take a credit for not having to treat the used water. This results in a savings on our wastewater treatment bill. An unplanned bonus — saving money is a wonderful thing.
Project Results
The project was an outstanding success. On time, on budget, with exceptional outcomes.
Design air static pressures are now achieved – allowing air delivery that has greatly improved the environment for both building occupant and customer.
The End Result was a $57,427 rebate from the City of Fort Collins Utility.
A Projected 399,100 kWh of electricity savings per year. That's enough savings to power 36 average homes for a year.
Projected annual savings of $15,430 in electrical utility savings.
In-house Participants
Troy A. Griffin
Steve L. Balderson
Additional Information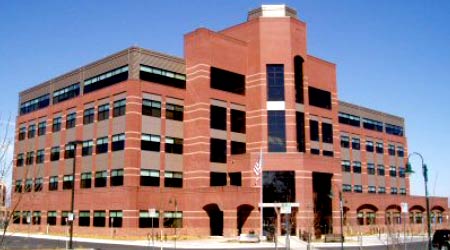 » View 2015 Larimer County Courthouse HVAC Replacement Project (PDF)