University of North Texas Health Science Center, Fort Worth, Texas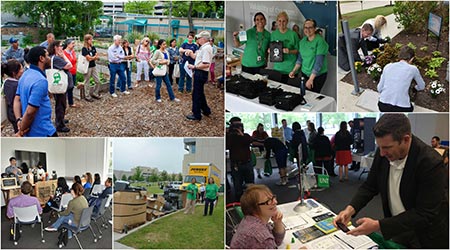 The University of North Texas Health Science Center (UNTHSC) is a small graduate health care university in Fort Worth, Texas, with a mission to create solutions for a healthier community. Our facilities management department supports that mission through comprehensive sustainable practices and programs intent on operating efficiently to save resources while focusing on educational outreach to our campus and community. A summary of our sustainability and outreach achievements include:


Significant energy savings resulting in $11,192,509 in cost savings to the university
Diversion of 5,082,440 gallons of water through a condensate capture system
Infrastructure upgrades lowering Air Change Rate by as much as 50 percent as well as reducing energy in one of our lab buildings by 5-10 percent /(Btu per square foot)
Expanding our recycling beyond the general comingle recycling to include lamps, batteries, and miscellaneous electronics
Creating the Lab Efficiency Action Program (LEAP) aimed at incentivizing labs to be more involved in saving energy, reducing waste and sharing best practices
Founding the UNTHSC Community Garden which practices environmental stewardship while promoting sustainable food production and philanthropy
Encouraging alternative transportation to and from campus by subsidizing transit passes, providing Electric Vehicle (EV) charging, and funding a Fort Worth Bike Share station on campus
Educational outreach events aimed at encouraging behavior change and providing opportunities to participate in sustainable practices

Problems, Opportunities, and Courses of Action

Higher education has increasingly faced budget cuts from the State of Texas over the last several years, and in fact, we are currently in a hiring freeze. Because of budget constraints, UNTHSC has proactively looked for opportunities to operate more efficiently for more than 15 years. This is one of the primary reasons we initiated energy savings projects in 2001 (phase one) and again in 2010 (phase two) with a contractor. Furthermore, we have aging infrastructure that requires replacement, so we seek out more energy efficient equipment with a satisfactory ROI (usually about five years or less depending on the project).

Not only does our focus on sustainability make financial sense, but we were prompted to go further when in 2010, our students voted to implement the environmental service fee to fund more sustainability improvements on campus. This in turn prompted us to hire a sustainability professional and establish a committee to oversee the use of the funds as well as provide a more comprehensive sustainability program within Facilities Management. The UNTHSC Community Garden, LEAP, expanded recycling efforts, and alternative transportation initiatives have all been funded through this fee along with other projects that promote environmental sustainability. Furthermore, we actively engage employees and students as well as the surrounding community in outreach events. One such event is our annual Earth Day Event where we have educational booths, electronic waste recycling, and experiences such as EV test drives to encourage people to adopt more sustainable habits.

Overcoming Challenges

The primary challenge we faced was funding our major energy projects given our budget constraints. Phases one and two of our energy savings projects were financed through the Texas Public Finance Authority's Master Lease Purchase Program. Furthermore, by having a savings guarantee through the contractor, the risk to our university was minimized. In addition to financial concerns, competing interests can also be a challenge to sustainability at a health care university. However, Facilities Management has been cognizant to define sustainability on campus in the context of health and to ensure that our projects coincide with our mission of creating healthier communities. By communicating sustainability in this context on campus, we have gained wide support from all the schools as well as the upper administration and our president.

Outcomes

Through phases one and to of our energy savings projects, we saved 94,154,209 kWh of electricity and saved the university $11,192,509. These utility savings have reduced CO2 emissions by approximately 939,602 tons. In addition, the ongoing condensate capture system in one of our laboratory buildings has diverted 5,082,440 gallons of water from the sewer drain into the cooling tower make-up thus augmenting the city water used. With our expanded recycling efforts, we have recycled 2,554 lbs. of batteries and 4,840 lbs. of lamps. The LEAP program has engaged 15 labs to be more efficient, purchase sustainable lab products, and share best practices since its launch in October 2016, and the UNTHSC Community Garden has donated almost 400 lbs. of organic produce to the food bank, diverted approximately 4,440 lbs. of food waste from the landfill through composting, and logged over 1500 volunteer hours since 2014. Furthermore, we subsidize about 20 transit passes each year and have provided eight outlets or charge stations for EV drivers. Lastly, through our annual Earth Day Event, we have engaged over 600 attendees each year and collected 7.2 tons of electronic waste for recycling since 2013.
In House Participants: Jason Hartley, Executive Director of Facilities, Randall Christopher, Energy Manager, Seth Willmoth, Director of Facilities, Patricia Dossey, Facilities Business Manager, Jerry Emerson, Custodial Services Manager, Sandy Bauman, Sustainability Coordinator, Craig Rowland, Electrical Foreman, David Lipe, Maintenance Foreman, Shane Ludwig, Plumbing Foreman, Jack Theford, Construction Foreman, Dean Conine, Grounds Foreman, Ruben Munoz, HVAC/Refridge Mechanic Foreman, Donnie Lennox, Automated Controls Technician, Terry Rogers, Building Utilities Operator, Barbara Gensemer, Senior Administrative Coordinator, Betsy Friauf, Senior Communications Specialist.
Additional Information
LEAP Brochure » (pdf)
Energy Savings 1 » (pdf)
Energy Savings 2 » (pdf)
UNTHSC Community Garden » (pdf)