Denver International Airport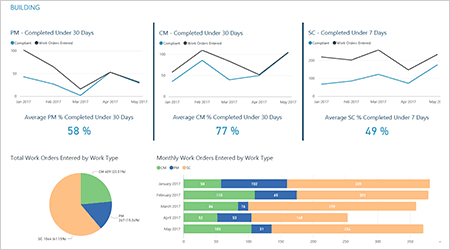 The facilities management department at Denver International Airport has taken tremendous strides to reinvent itself to one of strong culture, ambitious forward progress deserving of recognition. After large-scale equipment failures, finding itself behind in technology advancement and structural gaps in staffing, the organization has made some bold moves and is now thriving.

The facilities management department is made up of approximately 115 staff consisting of plumbers, HVAC mechanics and carpenters. Primary responsibilities are corrective and preventive maintenance, as well as resolution of customer service complaints.

Denver International Airport is the 19th-busiest airport in the world and the sixth-busiest airport in the United States, serving 58.3 million passengers last year and generating more than $26 billion for the region annually. The airport consists of 15 million square feet of built environment.

This team of maintenance staff consists of highly qualified and talented trades professionals with a reputation for customer service and in-depth technical abilities and knowledge. Over the years, however, staff complacency, a lack of accountability and a long list of deferred maintenance items allowed for a significant drop in productivity and a lack of mission focus. This drop surfaced in 2014 as the department was challenged with several high-profile projects to include a new hotel, multiple airline gate expansion projects and a record setting 58.3 million passengers passing through our facilities.

While the department was struggling to keep up with the pace of development, we experienced multiple high-dollar critical mechanical failures that put us in the spotlight. It was clear that business as usual was no longer acceptable. A department reorganization was needed, with a focus on sustainable leadership. This leadership development initiative was implemented in three major phases:

Phase 1. Revise the facility management department structure. The team went from all staff assigned to the entire facility to a zoned approach, where teams of 10 would be directly responsible for one of five assigned areas to manage PMs, repairs and service calls. Though these changes were difficult and at time painful, they were essential in changing the culture. This created a higher level of both accountability and ownership. The result included a six-month 37% percent turnover rate — including resignations, retirements and promotions — on the downside. On the positive front, this lead to realigning staff recruitments to more desired, more needed skills for our current work load.

Phase 2. Leadership development program. We worked collaboratively with our peak performance team, human resources and our strongest asset — our managers, supervisors and crew leaders. Our goal was to engage and develop a new culture of pride in accomplishment in facility management. This program was customized to the needs of each manager, supervisor and team on a monthly basis. We developed our frontline supervisors to take on more of a leadership role. We trained and developed our supervisors to be mentors, hands-on trainers and subject matter experts for their assigned zones. This motivated them to seek out more efficient means and methods to manage their zones, to hold staff accountable to work to complete preventive maintenance and to improve the overall operations of the facility.

Phase 3. Implemented key performance indicators (KPIs) and performance board tracking across the division. Of the three phases, this was phase was the most robust and difficult to tackle. It required the creation of new staff positions, populating our asset management system, tagging and tracking equipment, preventive maintenance job plans, and implementation of new mobile device technologies and finally, generating goals and KPIs to evaluate the success or our program. Phase 3 allowed for a clearer level of visibility to the actual work accomplished and the functionality of individuals, teams and the division as a whole. Throughout this process, we closely partnered with purchasing and our materials management department for on-time delivery of parts and supplies. We trained and empowered staff to utilize processes and purchasing tools to reduce inefficiencies and delays.

As a result of this program, we are on track to complete 50 percent more preventive maintenance work orders with 15 percent percent fewer staff by the end of 2017. Our successes are due entirely to the development and empowerment of staff. These successes include: tripled our asset identification throughout the entire facility; improved our process for onboarding new equipment into the asset management system; streamlined onboarding of new employees; implemented competency training and testing for new employees; strengthened our culture of leadership and accountability; and re-created/converted 17 positions to improve team structure.

In-house participants: Suzi Latona, director of facilities management; Tom Lisi, peak performance; Anya Nystrom, human resources.
Additional Information
View project » (pdf)