« Back to Facilities Management Flooring Category Home
Reasons to Consider Fast-Curing Resin Floor Systems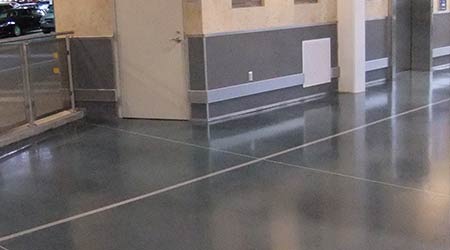 May 31, 2017 - Flooring
By Sophia Daukus
Replacing the flooring in any large facility can be costly, both financially and in lost production time. Fast-turnaround resinous flooring systems can not only be less expensive than other flooring options, but make it possible for a facility to get back into full production with minimal time lost. For critical industries operating 24/7, such as data centers, hospitals and even food processing, timing becomes even more important. A fast-curing resin floor system may be the most effective way to keep production rolling and provide an attractive, easy-to-maintain, durable facility floor.

In the past, one of the only answers for a fast cure was MMA (methyl methacrylate) flooring. While still in use, this product can be less than ideal for many applications, due to the extreme odor it produces during installation, as well as its very low flashpoint. Even when MMA is solvent-free, regulatory agencies classify the product as "flammable," necessitating special explosive-proof storage and restrictive shipping directives.

New technology has brought easier-to-handle fast-curing resin flooring systems to market. Today, nearly all professional grade resin floor systems, including epoxy and cementitious urethanes, offer faster curing options. And the latest generation of quick-curing floor coatings, comprised of polyaspartic resins, can be ready for traffic in under two hours, are colorfast, and provide outstanding chemical and abrasion resistance. These products tend to generate moderate to no odor during installation, are VOC compliant, and are not classified as "flammable."

Every industry has unique issues that must be addressed when evaluating new floorcovering options. Fast-curing resin flooring systems can provide solutions to specific performance challenges, including customized slip-resistance; easy clean-ability; the power to withstand exposure to harsh chemicals and extreme temperature swings; long-term stain-, scratch-, and impact-resistance; anti-microbial protection; and low cost care and maintenance, among others. Without grout lines where mold and bacteria tend to grow, hygienic, virtually seamless resinous flooring is easy and inexpensive to maintain.

Aesthetic considerations can also come into play. Fluid-applied resin flooring systems are available in a range of colors and styles, helping to create highly attractive environments for a range of facilities, from heavy industry to high-end retail.

Whether building a new facility or reconditioning an older concrete floor slab, today's compressed construction schedules bring challenges to the table. The wide selection of quick cure flooring systems currently available provides a range of solutions. Depending upon the size of the space and type of resin formulations required, the flooring can be ready for business operations in a matter of hours. And with new lower odor applications, buildings can often remain occupied. Large facilities can have new resinous flooring installed piecemeal — one space at a time — allowing normal activities to continue in adjoining rooms.

Sophia Daukus is marketing communications manager for Florock Polymer Flooring, manufactured in Chicago, Ill., since 1952. Florock offers a complete line of epoxy flooring and concrete floor coatings with decorative, high performance solutions to address nearly every application.








posted on 5/31/2017