« Back to Facilities Management Flooring Category Home
Indentations in Resilient Hard Surface Flooring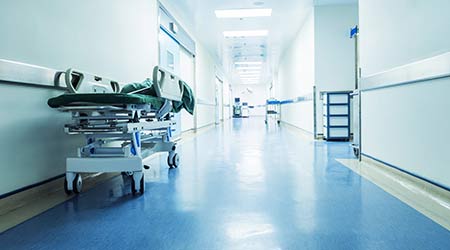 January 18, 2019 - Flooring
By Lewis Migliore
Resilient hard surface flooring — which comes in a variety of formats, be it tile, plank, or sheet goods or types such as vinyl and rubber — is an extraordinary product. Today, vinyl and rubber flooring products are widely used in commercial applications. The modular, or tile and plank materials – luxury vinyl tile (LVT) and luxury vinyl plank (LVP) — are used in almost every commercial market segment regardless of the type of space. Sheet goods, those products that come on rolls, are specific to use in hospitals and facilities where modular, or products with seams or open edges, would trap biological substances that would be common in a healthcare setting. Modular resilient flooring could be and is used in these healthcare facilities but in spaces where biological contamination doesn't occur.
The issue of indentations from rolling loads, furniture, even footwear, particularly spiked high heels, has been plaguing the industry and these complaints seem to be increasing. This article examines factors that facility managers should understand about indentations in resilient hard surface flooring.
Click here to download the report.
The Commercial Flooring Report is provided by Lewis Migliore, president of LGM and Associates, which offers technical flooring services, including help or guidance with a new flooring project or a failure on an existing floor. Contact him at lgmtcs@optilink.us.
posted on 1/18/2019