« Back to Facilities Management Flooring Category Home
Cleaning Textured Hard Surface Flooring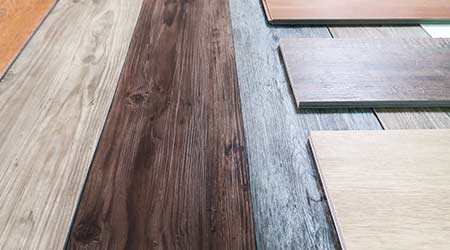 March 15, 2019 - Flooring
By Dane Gregory and Lew Migliore
Hard surface flooring is all the rage whether it's some form of vinyl with a wood or stone pattern and texture or engineered or real wood. The market is exploding with their use. If you attended Surfaces in Las Vegas in January 2019, you saw a massive display of these products. Everybody wants to be in this business and offer some type of hard surface flooring but, as I've said here repeatedly, nobody knows a lot about this product. When it comes to cleaning it there's even less known. Once these products get installed in a building it's discovered that they are more difficult to clean than other vinyl flooring such as VCT or hard surface tiles of any sort and here's why: The new LVT and LVP flooring is produced with a stunning photograph of different species of wood, tile, and stone. Recesses in the material will allow soils to find their way down deep into the wear layer, becoming difficult to remove with standard cleaning tools.
Click here to download the report.
The Commercial Flooring Report is provided by Lewis Migliore, president of LGM and Associates, which offers technical flooring services, including help or guidance with a new flooring project or a failure on an existing floor. Contact him at lgmtcs@optilink.us.
posted on 3/15/2019