Flooring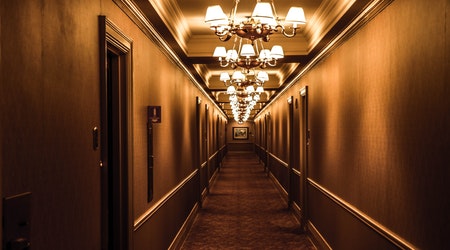 Some of the 500 million square yards of carpet installed in commercial buildings each year is for new facilities; some goes into spaces where new functions are being performed or a new look is needed; some replaces carpet at the end of its expected life. Along with these predictable and necessary investments, there are carpet purchases that should not have been required — purchases made to replace carpet that has reached a premature end to its useful life.
Three steps are key to making sure carpet lasts. First is selecting the most appropriate carpet for the space. Next is overseeing the installation. The third step is proper maintenance. What's surprising isn't the steps themselves but the number of times these basics are neglected.
The Right Choice
The first step requires the facility executive to analyze the environment where carpet will be used, says Marc Ahrens, market segment manager for Invista. Facility executives will want to get an idea of the level and type of traffic the space is likely to experience. Heavy foot or roller traffic calls for more durable carpeting.
The outside environment also plays a role. Carpets near large windows may be hit with ultraviolet rays from the sun, which can lead to fading, says Ahrens. In these spaces, the carpet selected should be able to hold up under the impact of the outside environment.
If a large quantity of carpet is being installed, it may pay to have an independent laboratory test the brand and type under consideration. The test will provide an unbiased assessment of the carpet's ability to take the wear and tear it's likely to receive, says Paul Williams, a contract specialist with Honeywell Zeftron.
A number of attributes determine how well a carpet will perform in a given space, including the fiber type, carpet construction, backing and cushion, dye method, installation quality and maintenance schedule. "The end use will determine which factor is most important," says Jeff West, vice president of marketing with Shaw. For instance, in a health care setting where moisture is a concern, the backing may be more important than it is in other facilities.
Nylon makes up the vast majority of commercial carpet fiber. Manufacturers sometimes use olefin on less expensive carpets, as it can cost as much as 20 percent less than nylon, says Dave Stafford, vice president of Commercial Carpets of America and chair of the trustees of the Floor Covering Installation Board. There's a trade-off, however, as olefin is more likely to crush and look worn.
Two attributes key to fiber performance are the denier per filament and tensile strength, says Shaw's West. Denier per filament refers to the thickness of the yarn fibers. Tensile strength is a measure of the pounds of pressure required to stretch and break the yarn fiber. With both measures, the higher the number, the better.
Backing and Cushion
Most commercial carpets have two backings, says John Dowdell, general manager for floor covering, BP/Amoco Fabrics and Fiber Co. A primary backing holds stitches in place during tufting. The secondary backing increases carpet stability, allowing more uniform installation.
About 60 percent of commercial carpet today has an SB (styrene butadiene) latex backing, says Scott Lowrie, business manager for the polyurethane business of Dow Chemical. "For standard commercial settings, this will work fine."
In areas with more traffic or caster seating, a polyurethane or vinyl-backed carpet will hold up better, says Ross Leonard, director of architecture and design marketing with Tandus Group. "It's more stable than latex, and won't break down."
Carpeting in areas that will see extraordinary amounts of traffic should have a closed-cell structured backing, such as vinyl, adds Leonard. "It's more durable and impervious to moisture."
If carpeting is going to be installed on a floor that sits at or below ground level, the water table may determine the type of backing. "You need to know if the water table will be exerting pressure on the concrete at any time during the year," says Williams of Honeywell Zeftron. If so, the carpet backing should be breathable. Otherwise, it will trap moisture, which could lead to mold.
Like the backing, the carpet cushion often is overlooked. In addition to making the carpet more comfortable to walk on, a quality carpet cushion can increase the appearance life of a carpet by 40 to 60 percent, says Stafford of Commercial Carpets. "It acts like a shock absorber under the carpet." A cushion also improves the vacuum-ability of carpet, making it easier to remove dirt.
Facility executives will want to look for higher-density, thinner-gauge cushioning, says Mike Cronin, chair of the Alliance for Flexible Polyurethane Foam, a committee of the trade group Alliance for the Polyurethane Industry. For instance, the ideal bonded urethane cushion for a carpet that will be stretched and installed will be 1/4-inch thick, with a density of eight pounds per cubic foot.
In some cases, it makes sense to go with a cushion that's directly poured into the carpet, says Dow's Lowrie. For instance, hospitals typically experience a high volume of roller traffic, and it's difficult to move the rollers over cushioned carpet. On the other hand, some cushioning makes the floor more comfortable to walk on. A carpet with built-in cushioning addresses both needs.
Construction and Color
In high-traffic areas, loop construction almost always outperforms cut-pile carpet. "With loops, you're walking on the side of the fiber," says Ahrens of Invista. "It gives carpet a more dense face."
More than 90 percent of commercial carpeting today is tufted, a process in which pile yarns are sewn into a backing. To judge the quality of a tufted carpet, look at both the number of stitches per inch and the gauge, says Leonard of Tandus. The higher the number for both, the better the carpet is likely to hold up. In corporate offices, a carpet with a face weight of 17 to 24 ounces is generally acceptable.
Although tufted carpets are more prevalent, woven carpeting still has its place, says Sam Bracken, vice president of marketing with The Mohawk Group. "A finely tuned woven carpet can last 20 years," says Bracken. As a result, the 10 to 20 percent price premium for woven carpet can quickly be recouped, he says.
When it comes to carpet color, the choice often is between solution- or yarn-dyed carpets. Solution-dyed carpeting generally holds up better, as the color pigment is added to the molten nylon before it's strung into fiber. Like a carrot, the color is all the way through the fiber, says Stafford.
In yarn-dyed carpeting, the color doesn't permeate the fiber, but remains on the outside, like an Easter egg, adds Stafford. Aggressive cleaning may degrade the color.
Facility executives should ask the carpet installation contractor how he or she is planning to install the carpet. This is critical, as some carpet mills void their product warranties if the installation procedures they recommend aren't followed, says Dow's Lowrie.
Qualified installers should understand the Carpet & Rug Institute's standard for carpet installation, often referred to as CRI 104. They also should be willing to identify any training classes they've taken and the certifications they hold, says Stafford.
Most commercial carpet is installed using the "double glue-down" method, in which the carpet cushion is glued to the floor and the carpet then glued to the cushion. "In areas that are high-traffic and large, your better carpet installation method is double-glue," says Cronin.
If the decision is made to forego the cushioning, or the cushion is incorporated into the carpet, the direct glue-down method is common. As its name suggests, the carpet is glued directly to the floor.
One installation method to avoid is what's known as "knee-kicked," says Dowdell of BP. The installers wear knee pads and try to stretch the carpet by exerting pressure on it with their knees. "This does not ensure that the carpet is properly stretched," says Dowdell.
Choosing an appropriate adhesive also is critical to proper installation. The carpet manufacturer may have a list of adhesives that it recommends. If not, contact the adhesive manufacturer, suggests Williams of Honeywell Zeftron. Send a sample of the carpet, and ask whether the adhesive being considered will work with it.
Once It's Down
Proper maintenance plays a critical, albeit often overlooked, role in ensuring the long-term performance of a carpet. "Carpet is a product that hides soil well," says Carroll Turner, technical services manager with the Carpet & Rug Institute. "That property causes people to assume that it doesn't need as much maintenance as other areas."
Unfortunately, the harmful effects of dirt and soil often aren't apparent until the damage already has been done. "Dry soil can wreak havoc by acting as a sandpaper. It gets ground up and scratches the fiber and dulls the appearance," says Ahrens of Invista.
Regular maintenance also is necessary to prevent the growth of mildew. "Mold or bacteria won't grow in a regularly maintained carpet," says Daniel Price, director of microbiology and preservatives development with Interface Research and Development.
To start, the facility executive will want to make sure mats are placed by entrance areas that will receive a lot of traffic. Frequent vacuuming also is key, as it removes more than 80 percent of loose dirt, says Williams.
Contrary to popular opinion, it's usually not necessary to use copious amounts of detergents or harsh chemicals to adequately clean the carpet, says Ahrens. Often, a hot water extraction is all that's needed to remove the dirt. The benefit: this won't leave behind a residue that attracts dirt.
If a cleaning solution is warranted, consider the three "Cs" to decide whether one is right for a carpet, says Price. The first C refers to the chemistry of the cleaner. It should be compatible with both the carpet face and backing.
The next step is to calculate the proper concentration of the solution. The more an area is exposed to stains and dirt, the higher the concentration. The third C stands for contact. This is the amount of time the solution needs to remain in contact with the carpet to effectively clean it.
Changing Technology
As they oversee the selection, installation and maintenance of a carpet, facility executives also will want to consider how carpet technology may have improved since their last carpet purchase. "Technology has changed drastically over the past decade and a specification that was once appropriate may now be completely outdated," says Shaw's West.
For instance, some carpet fibers today release stains just with water, says Bracken of The Mohawk Group. Not only does this avoid the problems of harsh chemicals, it means that almost any maintenance person can take care of stains.
Finally, "spend money where it makes sense," says Bracken. Using higher quality carpeting in areas that receive heavy traffic and less expensive carpeting in areas that don't helps ensure the carpet lasts as long as possible, while staying within budget.
---
---
---
Related Topics:
Comments