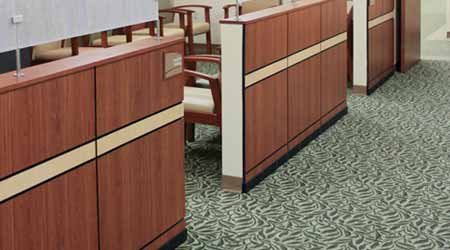 Oculus Inc., Ron Reim
Consider Floorcovering Sustainability For Healthcare Selection
When it comes to healthcare floorcovering, sustainability should be considered in terms of durability and infection control.
For a hospital or healthcare facility seeking a green building rating certification such as LEED or Green Globes, sustainability has as much importance as the durability and infection control qualities of the floorcovering selection. Sustainable flooring options such as bamboo, rubber, and linoleum are commonly used in healthcare settings for their environmentally friendly characteristics. These materials help earn some of the points for LEED certification, which means it's not only good for the environment, but good for the hospital's bottom line.
Healthcare facilities are meant to be places of healing, but the use of hazardous and toxic materials in patient care environments poses a serious health concern to patients and staff. A growing body of knowledge is available to assist facility managers, design professionals, and healthcare organizations in understanding how buildings affect human health and the environment and how these effects can be mitigated through a variety of design strategies. By incorporating various sustainable design features, hospitals and healthcare facilities can improve patient health, increase staff efficiency and reduce energy consumption, waste, and the use of toxic materials. Materials produced with low-VOC levels or through minimized use of hazardous content such as phthalates are commonly selected to promote a healthy environment and reduce negative health effects.
There's a strong case for making healthcare flooring selections through evidence-based processes and available data to achieve predetermined performance and anticipated user satisfaction outcomes. Combining that information with guidance from the project design team will lead to good design choices that satisfy the organization's institutional needs. But it is always interesting to consider a wild card: selecting a floorcovering that looks perfect but is a bit of an unknown. This is where an experienced design team can facilitate a possible step to an inspired solution.
Marc Lopez (marcl@oculusinc.com), RA, EDAC, brings more than 24 years of experience as the director of the Dallas office of Oculus Inc. He provides leadership in designing and managing renovations, adaptive reuse, and new out-of-ground projects for medical clients across the United States.
Email comments to edward.sullivan@tradepress.com.
Continue Reading:

Healthcare Flooring

What to Consider When Specifying Flooring

How Floorcoverings Decisions Affect Environment of Care

4 Ways High-Performance Floorcovering Leads To Patient Satisfaction

Consider Floorcovering Sustainability For Healthcare Selection
---
---
---
Related Topics: