'Green' Flooring Decisions Involve Checking for Third-Party Certifications
Part 3 of a 4-part article describing four steps to a sustainable floor
OTHER PARTS OF THIS ARTICLE
Pt. 1:
Carefully Selected Floors Raise Issues of Materials Use
Pt. 2:
Flooring Decisions Involve Issues of Sustainable Content, Chemical Exposure
Pt. 3: This Page
Pt. 4:
Green Seal, Floorscore Among 'Green' Flooring Certifications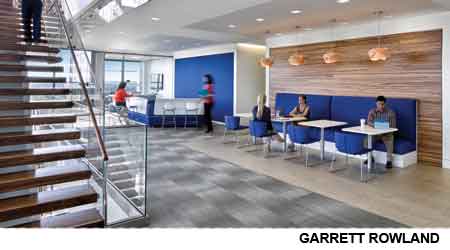 A final area that facility managers can focus on in making a careful decision about "green" flooring products is third-party certifications. Following are some of them, including FSC, Cradle to Cradle, and Greenguard. The certification discussion continues in Part 4 of this article.
STEP 4: THIRD-PARTY CERTIFICATION
Facility managers can be forgiven if their heads spin a bit from all the facets that could be used to deem a flooring product "green." But thankfully they don't have to do all the homework from scratch. One way to distinguish legitimate claims of "greenness" from more questionable ones is by checking for any certifications a flooring product has earned. Certification shows that "the claim the product is making can be trusted, and the product has undergone a third-party, scientific evaluation," Rutland says.
Among the certifications facility managers might come across are these:
FSC Certified: The Forest Stewardship Council says its mission is to "promote environmentally sound, socially beneficial, and economically prosperous management of the world's forests." To that end, FSC has developed 10 principles for FSC-certified forests, including one on the environmental impact: "Forest management shall conserve biological diversity and its associated values, water resources, soils, and unique and fragile ecosystems and landscapes, and, by so doing, maintain the ecological functions and the integrity of Cradle to Cradle Products Innovation Institute the forest."
Cradle to Cradle: The nonprofit administers the Cradle to Cradle Certified Product Standard, which "covers the environmental impact of a product over its lifecycle," Landreneau says.
It looks at products from five categories: material health, material reutilization, renewable energy and carbon management, water stewardship, and social fairness. A product earns an achievement level in each category — Basic, Bronze, Silver, Gold, or Platinum. The lowest achievement level represents the product's overall mark.
Product assessments are performed by qualified, independent organizations trained by the institute. "It's a third-party certification that's pretty rigorous," Davis says.
Greenguard UL Environment: One focus is certification for low-emitting products, Rutland says. This certification requires samples of products to be placed in test chambers for about seven days. During that time, the air is tested for the presence of chemicals every 24 hours. Because the chambers are operated using purified air, any off-gassing from the test products is readily apparent. The evaluators also use modeling to understand the impact a product will have in a typical building — that is, how long it will continue to off-gas after it is installed. "To achieve certification, products have to meet our strict requirements for low-levels emissions quickly," Rutland says.
Greenguard also conducts manufacturing reviews to document the raw material procurement process, review the manufacturing process, and gather information on what the emission sources may be, Rutland says.
Continue Reading:

Flooring

Carefully Selected Floors Raise Issues of Materials Use

Flooring Decisions Involve Issues of Sustainable Content, Chemical Exposure

'Green' Flooring Decisions Involve Checking for Third-Party Certifications

Green Seal, Floorscore Among 'Green' Flooring Certifications
---
---
---
Related Topics:
Comments