You Might Like
On FacilitiesNet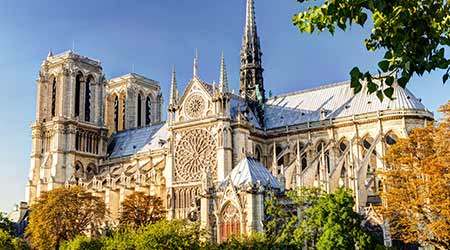 Fire at Notre Dame Cathedral Could Be Linked to Renovations
Disasters ranging from floods to fires can strike at any moment. When they do, maintenance and engineering managers must act quickly to do what they can to remedy the situation. In Paris, the historic Notre Dame cathedral caught fire.

Authorities have not yet released the cause of the fire or any further information, however the fire may potentially be linked to renovation work being carried out at the site, the fire service said, according to CBS News.

Yellow clouds of smoke could be seen billowing into an otherwise perfect blue sky. The central spire was completely engulfed in flames and eventually collapsed as the fire continued to spread. The entire back roof also burned through, according to CNN.

The heat of the fire could be felt from across the River Seine.
Firefighters at the scene were pumping water from cranes, according to the Washington Post.
Paris Mayor Anne Hidalgo says the fire brigade is trying to control a "terrible fire" that's broken out at Notre Dame Cathedral.
On Twitter, Hidalgo said: "A terrible fire is underway at Notre Dame Cathedral in Paris. The fire brigade are trying to control the fire. We are mobilized locally in close connection with church authorities. I ask everyone to respect the security perimeter."
The fire alarm first went off around 6:30 p.m., said André Finot, a spokesman for the cathedral, adding that the cathedral had been evacuated, according to The New York Times.

As the last rush of tourists were trying to get in for the day, the doors of Notre Dame were abruptly shut without explanation, witnesses said.

Within moments, tiny bits of white smoke started rising from the spire. Billowing out, the smoke started turning gray, then black, making it clear that a fire was growing inside the cathedral, which is currently covered in scaffolding. Soon, orange flames began punching out of the spire, quickly increasing in intensity.

The medieval cathedral was completed in the 13th century and today, with its towers, spire, flying buttresses and stained glass, is considered a feat of architecture as much as a religious symbol.

Located in Île de la Cité, a small island in the middle of the city, the cathedral is one of Paris' most popular attractions, drawing an estimated 13 million visitors a year.

Ryan Berlin is digital content manager of Facilitiesnet.com.
---