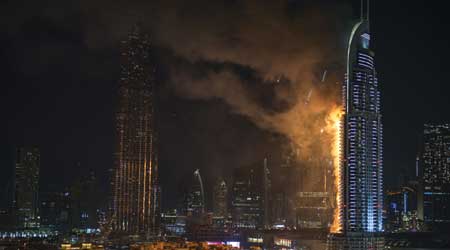 Understanding The Unique Fire Safety Challenges of Tall Buildings
Part 1 of a 3-part article on issues to consider to make high-rise buildings strong and fire safe.
Tall buildings have special fire safety design issues that are not experienced in other types of structures. That is why tall buildings should be equipped with more fire safety features when compared to other types of buildings. Currently, as technology and construction methods related to tall building construction change over time, the fire protection engineering community is experiencing newer fire safety issues. Typically, these emerging issues come from the demand to build taller, aesthetically pleasing, and environmentally responsible buildings.

Understanding these emerging fire safety issues in high-rise buildings is the first step both to mitigating damage due to fire, and also preventing the possibility of fire in the first place.
(Top photo caption: On Dec. 31, 2015, at the Address Downtown Dubai Hotel, an electrical short circuit on a spotlight between the 14th and 15th floors caused a fire that spread over the 64-story building. The incident illustrated how fire can quickly affect multiple levels of a high-rise building that have exterior wall assemblies containing combustible materials.)
Timber In Vogue
The design/construction industry has seen an increasing demand for tall buildings that have structural components comprised of engineered wood. This demand is partly due to the development of new engineered timber products and the potential economic benefits of prefabricated timber elements. Typical types of timber systems used in the construction of tall buildings include cross-laminated timber (CLT), laminated veneer lumber (LVL), and glued laminated timber (Glulam).

Moreover, the growing emphasis on constructing sustainable structures has made timber buildings very attractive to building stakeholders and society in general. For example, when compared to other types of structural systems, timber is a renewable resource. As well, these materials have lower embodied energy during the manufacturing process and can be reused after demolition.

Because of these benefits, tall timber buildings are now being constructed around the globe. In 2014, a 96-foot-tall, 51,000 square foot structure built almost entirely out of engineered wood components opened in Prince George, British Columbia. In the United States there are plans for a 10-story residential timber building in New York City and a 12-story mixed-occupancy timber building in Portland, Ore. Many others are in construction or design throughout Canada, Europe, and Oceania.

Although timber has many positive qualities, wood is often perceived to be unsafe when exposed to fire. Largely due to concerns related to combustibility and structural stability, tall timber buildings have at times been negatively viewed by some design professionals, government regulators, and fire service professionals.

The reality, however, is that timber systems perform well when exposed to fire. The fire protection engineering community has completed a substantial amount of research on the performance of timber structures when exposed to fire conditions. When timber is exposed to fire, the outer layer burns and turns to char. This creates a protective charring layer that acts as insulation that delays the onset of heating to the unheated side. This allows the timber assembly to maintain its structural capacity for extended durations.

Without a doubt timber construction is becoming more desirable on a global level and, there is an ample amount of engineering data available so design professionals can safely design tall timber buildings.


Continue Reading:

Fire Safety

Understanding The Unique Fire Safety Challenges of Tall Buildings

Exterior Wall Assemblies, Performance-Based Fire Resistance: High-Rise Considerations

SIDEBAR: Egress Strategy Critical To Overall Fire Safety Plans
---
---
---
Related Topics: