You Might Like
On FacilitiesNet
Inspecting, Testing, and Maintaining Fire and Life Safety Systems
Part 2 of a 3-part primer on the care and maintenance of new or old installations
OTHER PARTS OF THIS ARTICLE
Pt. 1:
Tips on Testing Fire Protection and Life Safety Systems
Pt. 2: This Page
Pt. 3:
Commissioning Fire and Life Safety Systems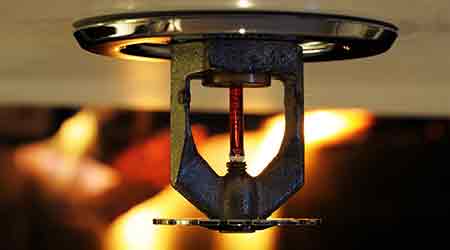 After the initial installation of fire and life safety systems, how often a comprehensive inspecting, testing, and maintaining (ITM) approach is done depends on the type of system, says Frangiamore. For example, while sprinkler and alarm systems require annual inspections, fire pumps require "more frequent partial tests," in addition to annual tests, he says.
ITM, as defined by NFPA, consists of very specific and different duties, note Solomon and Wilmot:
Inspection: This is a visual check to ensure that system components appear to be in working order. "Is there anything that is obvious that may indicate a problem exists?"
Testing: This is a bit more complex in that "some active function is involved. Something is operated, started, opened, flowed, or activated to see if it indeed does what it is supposed to do," they say.
Maintenance: This is even more involved. "A component is being taken apart to get a closer look, or a preventative action — changing the filter and oil in the diesel engine for the emergency generator, for example — is being taken."
Who should be responsible for ongoing ITM? "This is the classic, 'It depends' response," say Solomon and Wilmot. "Building owners with a larger maintenance staff can likely achieve most of the inspection items. The testing and maintenance actions become more involved, and this is where the staff needs some specialized training and knowledge to properly and safely carry out these actions. Otherwise, the safe bet is to hire an ITM company that has the knowledge base to do your system maintenance."
When hiring third parties to do annual testing, "make sure they have the required licensing," says Frangiamore. Also, he adds, don't base a decision on the least expensive price. "A good company comes in, finds things, and you spend the money to fix them." He likens this to purchasing insurance. "No one likes paying for it, but everyone needs it."
According to Frangiamore, "There are companies that will not spend the time to really check the fire sprinkler system." For instance, if you have a 30,000-square-foot facility and an inspector simply "looks at the riser room and does a report," he is not doing his job properly. "The code requires you walk through the entire system," Frangiamore explains. Looking for leaks and abnormalities "doesn't take 10 minutes." An easy way to get an idea of the minimum length of time to do this is for a facility manager to just walk through the building himself and see how long it takes.
It's helpful when hiring firms that facility managers understand what the contractors are supposed to do, says Frangiamore. "Also, when they come in, they should contact you and get some general information from you," such as whether or not anything with the system has changed. And a follow-up conversation after the inspection is essential.
Because of the uniqueness of some systems, Frangiamore says, he has seen situations where a facility manager tries to do the testing but lacks the expertise across all the requirements. But if a facility manager wants to keep this responsibility in house, Jelenewicz recommends hiring a fire protection engineer to help create an ITM program. This should include information on the type of system, the correct procedures for it, the frequency of the performance of those duties, the person who should perform them, and the documentation of the duties being properly performed. "Records management is an essential part of the ITM process," he says. "Not only will proper documentation show the authorities that a specific system was tested properly, but this documentation can be used to compare the ITM data with previous activities."
Continue Reading:

Fire Safety

Tips on Testing Fire Protection and Life Safety Systems

Inspecting, Testing, and Maintaining Fire and Life Safety Systems

Commissioning Fire and Life Safety Systems
---
---
---
Related Topics:
Comments