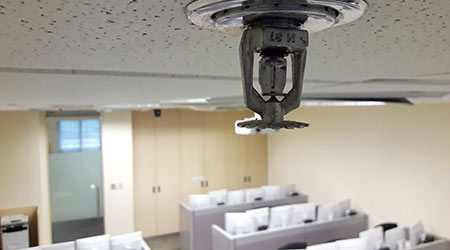 Fire Protection: Understanding and Scheduling ITM
Attention to frequency, staffing and scheduling can ensure successful management of fire and life safety systems
After the completion of any ITM, it is vital that managers review all testing documentation completed by staff or a contractor. Oftentimes, workers leave boxes unchecked, miss systems or components during the inspection, miscount devices, forget to include pages, or document deficiencies without noting corrections. These oversights could be simple to correct, or they could be substantial enough to require shutdown of an entire building system or fire watch
Although these tasks can be time-consuming, they are as essential to ensure that fire protection and life safety systems will perform properly in the event of a fire. It is often helpful to engage another person within the department or a trusted partner to assist with document review.
Another common issue when it comes to ITM — especially in 24/7 facilities, facilities with high levels of security, or even standard commercial buildings — is scheduling the work. Fire alarm testing at 7 a.m. or 5 p.m. can disrupt building occupants. Flowing water from standpipes or a fire pump might temporarily close stairwells or rooms, or it could destroy landscaping. Activating smoke control systems can make doors difficult to operate, cause issues with furniture or artwork within an atrium, or bring in large quantities of cold air during winter.
Because of these potential problems, coordinating testing not only with facility staff but other ancillary staff and building occupants in affected areas can be critical to successful ITM. That said, proper care and coordination in advance can assist in successful testing.
Regular testing of fire protection and life safety systems will ensure proper operation while keeping buildings and occupants safe. Managers also must make sure they do not forget passive systems. Outside of healthcare occupancies or correctional facilities, these systems often go overlooked and, as a result, can be just as dangerous in leading to the spread of fire, smoke, and hot toxic gases. Walls, floors, and doors that are not inspected – even though the building has a brand new fire alarm system or a fire sprinkler system – present a major risk for the building.
ITM for fire protection and life safety systems within a facility can be a difficult task. Managers need to make notifications, schedule system shutdowns, and review documentation, in addition to ensuring technicians complete everyday tasks. Successful ITM requires ample care and coordination in advance by the staff or by contractors performing the work with the facilities staff, ancillary staff, and building occupants.
Despite these challenges, completing all ITM requirements will ensure that a facility's fire protection and life safety systems are in the best possible state to perform as intended if needed.
Mark Chrisman is associate vice president, director of code consulting, and healthcare practice co-director with Henderson Engineers — www.hendersonengineers.com — a national building systems design firm. He works primarily in critical spaces with life safety systems and provides code and life safety consulting, fire modeling, fire suppression, and fire alarm design services for buildings nationwide. Facebook: www.facebook.com/hendersonengineers. Twitter: https://twitter.com/hendersonengs. LinkedIn: www.linkedin.com/company/henderson-engineers-inc.
Continue Reading:

Fire and Life Safety

Fire Protection: Inspection, Testing and Maintenance

Fire Protection: Effectively Performing ITM

Fire Protection: Understanding and Scheduling ITM

Fire Protection: Codes and Standards
---
---
---
Related Topics: