Facility Manager Cost Saving/Best Practice Quick Reads RSS Feed
University of Miami FM Helps Save Falling Cat During Football Game
September 16, 2021 - Contact FacilitiesNet Editorial Staff »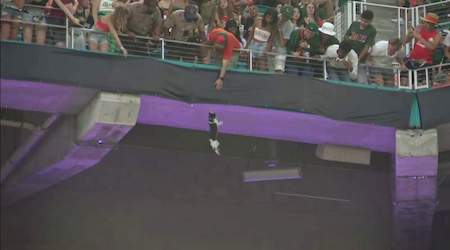 Even when they aren't on the clock, facility managers are often still on the job.
Case in point: University of Miami facilities manager Craig Cromer.
Cromer and his wife were attending the Miami-Appalachian State football game at Hard Rock Stadium on Saturday when a cat was struggling to hang on to the facade on the upper deck of the stadium. The video was a hit on social media and sports highlight shows all weekend.
As fans tried to grasp the cat to safety, it suddenly lost grip and started its 30-foot tumble. As spectators watched in horror, thankfully Cromer and his wife, Kimberly, were on hand to save the day.
The Cromers bring an American flag to every game to hang in front of their seats. On this day, not only were they showing their patriotism, but their heroism. The quick-thinking FM broke the zip ties he used to secure the flag before the couple held the outstretched flag waiting for the cat to fall above them.
When the feline eventually fell, the Cromers were waiting with the flag to catch it, which they miraculously did. When the cat was saved, a celebration ensued and it received The Lion King treatment as another fan lifted the cat into the air to show it was OK, according to a WNNO radio article.
"It seemed like it took forever," Craig Cromer told the Miami Herald. Kimberly Cromer said "it was probably the strangest thing that's happened."
Dave Lubach is managing editor, Facility Market.
---
Comments