Facility Manager Cost Saving/Best Practice Quick Reads RSS Feed
POPULAR POST: No Injuries as Railing Gives Way at Fedex Field
January 12, 2022 - Contact FacilitiesNet Editorial Staff »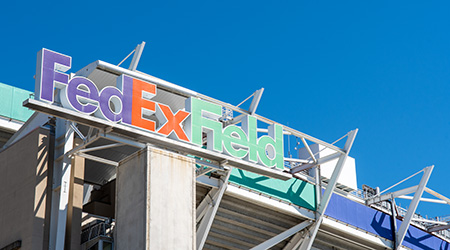 The NFL's Washington Football Team has made more headlines off the field than on it during the last couple of seasons. That trend continued during Week 17 of the season, according to The Philadelphia Inquirer.
Philadelphia Eagles quarterback Jalen Hurts avoided a potential injury while walking through the tunnel of FedEx Field, Washington's home stadium, when a railing holding fans in place above him collapsed and dropped Eagles fans about 10 feet down to the stadium's floor, right in front of Hurts.
A tweet from a fan shows video of the collapse:
Jalen Hurts almost got taken out 🤦🏽‍♂️ pic.twitter.com/f5ClKvzxEX

— Trei (@Trei_Cham) January 3, 2022
The shifty quarterback avoided injury walking back to the locker room much like he eludes tacklers on the field. Hurts shifted to avoid fans falling on his legs and even paused to take pictures with the handful of fans who fell to the ground. Nobody was injured following the incident.
"I'm just happy everybody's safe from it," said Hurts, whose team won 20-16 and clinched a playoff berth. "Crazy stuff right there. That was a really dangerous situation."
The Washington Post reported that the area where the railing collapsed is the stadium's ADA-accessible section and was not designed to hold a full load of fans. It was designed to hold up to six wheelchairs and six companions.
The Post reported this was not the first incident at the team's facility.
In the team's season opener in September, a pipe burst created a waterfall in the stands, sparking fans to believe the water was sewage. Team officials claimed it was rainwater from a storage tank.
Later in the year, fire sprinklers went off inside a suite.
Another incident occurred early in the season when a steam machine used during player introductions created a cloud so thick that players found it difficult to find their way to the field, a safety hazard. The team said the issue was overflow because of humidity.
Dave Lubach the managing editor of the Facility Group.
---
Comments