You Might Like
On FacilitiesNet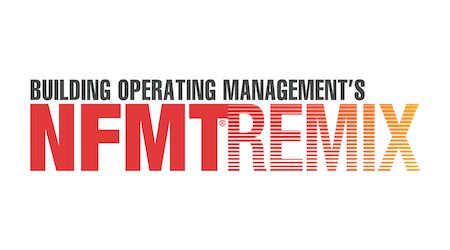 NFMT Returns With Its Remix Show In November
The National Facilities Management & Technology conference is returning this November after taking a break in 2020. The event will be held at the Orange County Convention Center in Orlando, Florida on Nov. 10 and 11.
"A lot has changed for facilities managers," says Amy Brown, Director of Events and Education at Trade Press Media Group. "A lot more eyes are on them and C-suites are paying attention to what they do. So it is crucial that we provide facilities managers the education to make sure that their buildings are as safe and healthy as possible to their occupants and we're excited to bring that content to them first hand."
Trade Press Media Group is partnering with ConnexFM — a multi-site facilities management association — to host NFMT Remix in conjunction with Connexion FM | Orlando, which will take place Nov. 11 and 12. The two organizations will host joint educational events the afternoon of November 11. Facilities professionals can attend either or both events at no cost.
The education of the NFMT Remix is driven by three themes that address the needs of today's facility managers: Reopening buildings safely, maintenance and operations, and business advancement technology.
"Education is the heart of the NFMT Remix," says Tim Rowe, VP of Marketing at Trade Press Media Group. "NFMT Remix offers continuing education units for all of our conference sessions. During the events you can get 12 hours of these education units for no additional cost. The units can be reported to any license or board that the attendees need."
Those attending in-person can expect the event to include more than 30 educational sessions. Some of the sessions on Nov. 10 include fire protection, pandemic-proofing facilities, office furniture, water system maintenance, and much more. Sessions on Nov. 11 include tax incentives, licenses, building efficiency, retrofitting, and more.
NFMT Remix also features socially safe networking opportunities and a product showcase from industry-leading manufacturers and suppliers. Coffee breaks between conference sessions serve as informal opportunities for conference attendees to connect with each other. Due to COVID-19 restrictions, there will not be a formal networking party like past events.
Facilities professionals can witness the newest products and technologies in one place at one time in the NFMT Remix Expo Hall. Attendees can learn about the latest product enhancements and updates to help them find solutions to everyday challenges. There are more than 60 exhibitors anticipated to present what they have to offer concerning facility technologies and products.
This is a hybrid event so participants can either come in person or attend online. A number of the education sessions will be live-streamed and there will be product demonstrations online as well as with the in-person event. In addition, online attendees will have access to a supplier directory where they can download brochures, products and technology information, and more from the exhibitors. They will also be able to send messages to any of the attendees, exhibitors or speakers through live chats.
NFMT Remix is free to attend in person and costs $99 to attend online (but is free to fnPrime members).
Trade Press Media Group is continually reviewing city, state and CDC guidelines and will comply with any recommended measures in November to provide participants with a high level of comfort attending NFMT Remix. The health and safety of our attendees, exhibitors, speakers, employees, and convention center staff is our top priority.
For more information on attending or exhibiting, visit the NFMT Remix website.
---