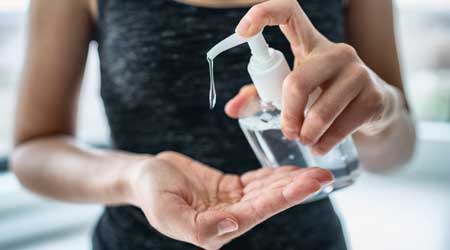 Green Seal Launches Hand Sanitizer Certification
Green Seal is now certifying alcohol-based hand sanitizers that meet the highest standard for health and safety in the marketplace amid growing consumer concern about toxic products. With the COVID-19 pandemic spurring many first-time producers to enter the market, the U.S. Food and Drug Administration has warned consumers to avoid more than 200 hand sanitizer products because of incorrect formulations and high levels of hazardous ingredients including methanol – wood alcohol – and the contaminant 1-propanol.
Meanwhile, even when properly formulated, hand sanitizers available on the U.S. market can include hazardous ingredients linked to cancer, allergies, skin and eye irritation and other harmful health effects – even if they have an ecolabel. Green Seal's new hand sanitizer certification standard, created with input from public health and industry experts, screens 100 percent of the product formula for carcinogens, reproductive toxins, skin irritants, phthalates, parabens and contaminants.
All products certified by Green Seal – the leading non-profit authority on safer and more sustainable cleaning and facility care products – must meet strict performance testing requirements to ensure effectiveness.
Dan Hounsell is editor of Facility Maintenance Decisions.
---