Facility Manager Cost Saving/Best Practice Quick Reads RSS Feed
4 Strategies for Dealing with Stress
February 21, 2018 - Contact FacilitiesNet Editorial Staff »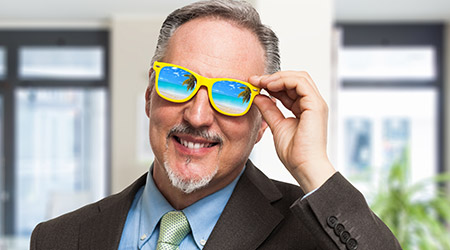 On a day-to-day basis, most facility managers would say they are at least moderately stressed because of their job. According to a Building Operating Management survey, 71 percent of FMs are moderately stressed on any given day, with 14 percent saying they are very stressed.

Most everybody knows that too much stress is a bad thing, so getting a better handle on stress levels is a pretty common New Year's resolution. However, by February most resolutions start falling by the wayside. If managing job-related FM stress is on your radar, here are some tips to help you stay the course.

1. Give Yourself a Break
"If you never take a break from work, that can be a big mistake," says Maura Thomas, a speaker, trainer, and founder of RegainYourTime.com. "Breaks aren't just a nicety. You need them to do your best work. Unwinding with friends, family, and hobbies reduces stress and energizes your brain." But she says the benefit of that downtime is lost if you're still mentally in the office, checking email constantly over the weekend, for example. That can be particularly tricky for facility managers. Setting up good notification systems, whether sensors or staffing, that you can trust to tell you when your attention is really needed should help you shutting off work.

2. Don't Skip Vacation
Americans have this habit of not using up all their vacation time. About half of Americans leave vacation time unused, according to research from Project:Time Off. This is a problem. "If you don't use your vacation time, or if you never unplug from work while you're off, your performance will plummet," says Thomas. "And so will your happiness. So the next time you're feeling stressed at work, ask yourself how long it's been since you've been truly away — physically and mentally — from your job. I'm betting that you'll see a connection."

3. Learn to Relax
Relaxation in the context of stress actually takes a little bit of work, says Nate Masterson, marketing manager for Maple Holistics. It involves training your brain to let go. "Real relaxation only comes when we minimize the amount of external stimuli that may trigger negative responses and chemical reactions in our brain," Masterson says. "Real relaxation comes from focusing on your breathing, meditating on your mental processes and focusing your thoughts on positive statements that reinforce a sense of well-being and peace of mind. This is the best way to relieve the accumulation of mental stress that's bound to gather over the course of the week and can leave you feeling positive, grateful and refreshed for the week ahead."

4. Recognize Good Work Done
Not only is managing stress important for everyone, but facility managers should also be aware of how their team is doing. One way to stave off stress in the team is to show them you see all their hard work and appreciate their effort, says Claire Pearson, founder of CORE Coaches. "The best thing an executive can do for team members to help with staff is show appreciation," says Pearson. She suggests hand-written thank you notes acknowledging the hours and the work, small gift cards, and public recognition at meetings as a way to say thanks. "These are all things that help team members feel good about their work and build loyalty. So when the going gets tough, they stay put." 


Giving that recognition to others also creates a boost for you, says Sarah McVanel of Greatness Magnified. " Not only do you have better working relationships, there's a healthy chemical reaction in the brain when you make eye contact and share something affirming in the other person (and seeing their reaction)," McVanel says. 


In addition, take a moment to practice self-recognition and reflect on your contributions, she says. And take a moment to properly celebrate the wins. "Often in facilities it's moving onto the next project before taking stock on all the success of the current or previous projects," McVanel says. "Take time out to socialize and celebrate."

This Quick Read was submitted by Naomi Millán, senior editor, Building Operating Management.
---
Comments