Five Minutes With Audio & Video Home
fiveminuteswith
All Together Now: Combining Grounds, Maintenance Staffs Improve Efficiency
Bob Bertram, the Executive Director of Facilities Management at the University of Southern Maine, discusses his school's decision to merge the grounds department and facilities maintenance staffs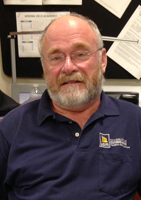 Bob Bertram
Executive Director of Facilities Management
University of Southern Maine

1. What were the primary reasons behind consolidating your grounds and maintenance staffs?

The primary reason was to improve service levels and provide better efficiencies. Saving money will be a byproduct of this rather than a goal, but we do expect to save some money.


2. How did you convince employees that consolidation was the right thing to do?

This is a work-in-progress. Change is always difficult, especially among those who feel they have little control over that change. We have established three implementation teams that include frontline supervisors, where most of the discomfort is, that are meeting bi-weekly with me and several others to work through the potential problems and develop service level agreements with new customers.


3. What kind of additional worker training is necessary to get everyone comfortable with new responsibilities?

There will little specific job duty training required. For the most part employees will be doing the same tasks as they presently are. The exception to this is within the grounds department where we will be combining employees who now do primarily athletic field maintenance and care, ice rink maintenance and care, set up for athletic events both inside and outside, with a group who does primarily lawn care and maintenance, flower and plant care, snow removal, excavation, and road and sidewalk maintenance. The goal is to cross-train most employees so they can all perform most of the work.


4. What are some of the challenges you anticipate during the transition?

Acceptance of being a part of facilities management rather than their previous group will be a challenge. Even though all employees are represented by the same labor union and covered under the same collective bargaining contract, there are different policies and procedures in facilities management that will have to be conveyed and accepted by the new members of this organization. That promises to be a challenge.


5.What kinds of lessons have you learned from the process?

This is a question that will be better answered in a couple of months. The official date of the change is June 9. Between now and then through our implementation teams we are trying to set the tone, anticipate the problems, answer questions, and change attitudes. All of the aforementioned will define lessons for the next time, or maybe for others.
posted: 5/6/2013