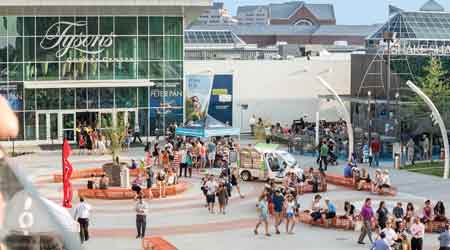 Courtesy of CallisonRTKL
Why Some Malls Are Thriving In The Age of Online Shopping
Malls must be able to give consumers an experience they can't get shopping online.
While the gulf between Class A malls and everything else is widening, neighborhood or community malls are thriving in many cases, says Garrick Brown, vice president of retail research, Americas, for Cushman and Wakefield. About 34 percent of them are anchored by grocery or drug stores, and their rent has been climbing for the last five years, he says.
Maloney says it would be unwise to write off malls, noting that there are 1,250 malls in the United States, and that at least 1,000 of them are doing "unbelievably well." However, it's the 250 or so malls that are struggling that get much of the attention, with consumers then believing that every mall is troubled, he says.
"That's the biggest untruth about malls," Maloney says. "Retail employs about one-fifth of the people who work in the country, so 20 percent. That's phenomenal, and it's going to continue to grow."
Experts say today's malls are all about consumers not just shopping but having an experience: eating a meal with friends, enjoying entertainment, and perhaps exercising on some green space. Malls are offering consumers experiences that they can't get shopping online. "The overarching theme driving traffic is really around the experience," says Cordero. "Not carousels or Ferris wheels but restaurants and cool indoor experiences, which could be a gym. It's something tangible, an experience that can't be replicated online."
Food is high on the list of experiences that consumers want. People are trying different types of foods more than ever before, so food halls and an ever-widening array of restaurants can address that need and drive traffic, Gunning says. If a mall is changing to become mixed-use, the food businesses that face green space create a sense of community, he says, adding that people will come to the food areas even if they don't plan on shopping.
"The mall becomes more of a destination and not just about fashion," Gunning says.
Although they might seem old school, movie theaters are an enticing entertainment venue that consumers still want, and malls can offer, Gunning says. Some theaters will even deliver food and drinks to customers in their seats, enhancing the theater experience, he says.
Bowling is another popular experience malls can provide, Maloney says, as well as grocery stores.
The move to a mixed-use approach is guiding changes at the Galleria at Fort Lauderdale, Maloney says. Movie theaters are being added, there is an adjacent hotel, and condos and multi-family units will be added, he says.
Rosedale Center in Minnesota is also undergoing a mixed-use transformation, one that is transitioning it from a Class B to Class A mall, Maloney says. Children's Place, Charlotte Russe, Hallmark, and other tenants left the mall after their lease expirations to make room for a 128,000-square foot Von Maur that will open this fall. Craveable Markets, a two-level eatery and market with communal dining spaces, will also open in the fall. Extreme Sandbox Mini, which allows individuals to operate wheel loaders, bulldozers, excavators and more in a scaled-down size, opened at the mall in November.
Continue Reading:

Retail Facilities

Facing Headwinds, Malls Reinvent Themselves

Why Some Malls Are Thriving In The Age of Online Shopping

Right Mix of Technology, Amenities Key for Mall Survival
---
---
---
Related Topics: