Why BIM Is Valuable For LIfe-Cycle Considerations
Second of a two-part article on the benefits of a robust cleaning program.
OTHER PARTS OF THIS ARTICLE
Pt. 1:
Why You Should Embrace BIM For Facility Management
Pt. 2: This Page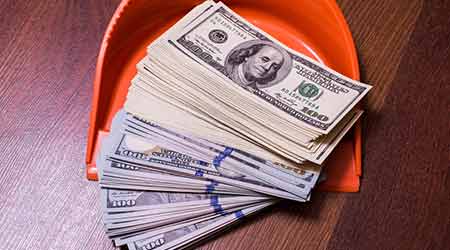 Ghafari Associates
BIM is particularly valuable for lifecycle issues related to not only fixtures, furniture, and equipment but also for site features including hardscape, lighting, and non-building environment components.

Facilities. Having digital information immediately available for running accurate reports on various aspects of facilities is at the heart of BIM for facility management. Consider an example: An owner needed to replace a door, but had no record of its sound/fire rating. To resolve this, a staff member opened each door and read its label, but half of the doors had been painted and the door label had inadvertently been covered. If they had that information digitally in the model, someone could run a report about how many and what type of doors they have. This information could have easily been provided in minutes versus days if records were kept in the facility management BIM model. This information is usually part of the design and construction models, but often gets lost as most facility management groups do not have the skill sets or processes to handle BIM models. They revert to traditional 2D data management that negates the benefits that could be gained from BIM.

Equipment. When new equipment is being installed in a facility, the facility management leaders should be included at the planning meetings. They are critical leaders in the understanding of what end data is required for the operations of a facility. Without their input, the design team will not have a complete understanding of how the models need to be developed for the most efficient data exchange process. It is also critical to involve the manufacturers for specialty equipment as soon as they are selected on a project. Each manufacturer has unique installation and maintenance processes. During design and construction, the models must be updated to reflect the actual installed equipment. Providing a generic model to a facility management group does not provide all the required data they may need to capture. As consultants and specialty suppliers are added to the project scope, a detailed plan should be developed to incorporate into the facility management model. Absent such a plan, the usability of a master record model is compromised and made unreliable.

Site. BIM information extends beyond individual buildings to the site as a whole. With a site facility management model, you can capture information about exterior components such as generators, maintenance pads, and parking spaces. This allows the facility manager to coordinate maintenance processes for the entire campus in one place. The facility maintenance team can quickly access the construction material and product information of a site element needing maintenance. For example, if 14 potholes in the parking lot will be repaired on Wednesday, the model can show whether the road is concrete or asphalt. A scope of repair drawing could be produced that provides the amount of material and cost of repair. In addition, a record of maintenance could be added to the model indicating when the repair is scheduled and completed. A notification can be sent to all campus employees ahead of time showing exact locations affected and temporary detours to avoid the maintenance efforts. With all this information available, the work doesn't have to disrupt operations at all.

Connecting + Talent
Today's tools offer even more critical opportunities to assist facility management. Software applications can embed training material, cut sheets, and maintenance schedules, as well as links to supplier Internet pages. With cloud-based tools, the facility management model can be viewed remotely from tablets or smartphones in real time, even when employees are not connected to their office computers.

BIM also revitalizes the traditional goal of a master planner with opportunities for the life cycling of the facility. Everyone understands the importance of quick access to information, but to achieve the comprehensive and instantaneous access that is being demanded in many industries, these tools need to be implemented in all processes, from construction to facility management.

BIM can even serve as a recruitment tool for young graduates who are looking for new (or better) jobs and are considering how technically sophisticated their prospective employer is. Will the job let the employee work remotely or will they be handcuffed to their cubicle? Are cutting-edge technologies implemented to allow employees to do their job more efficiently and effectively? If the company uses BIM processes for facility management, it is a sure sign of an organization that is looking to the future and not doing things because that is the way it has always been done.

Cost-effective facility management is a byproduct of good planning and design. Through planning ahead, optimizing value for facilities, equipment, and site lifecycle issues, as well as providing new levels of technological linkage, BIM successfully supports instant, precise, and user-friendly access to efficient facility management for the future.

Scott Adams is manager of Practice Technology with Ghafari Associates. He can be reached at sadams@ghafari.com.

Email comments and questions to edward.sullivan@tradepress.com.
Continue Reading:

Building Information Modeling

Why You Should Embrace BIM For Facility Management

Why BIM Is Valuable For LIfe-Cycle Considerations
---
---
---
Related Topics:
Comments