Wayfinding: Code Considerations
Facilities, tenants and regulations change regularly. These strategies can help managers ensure signage keeps up with the changes
OTHER PARTS OF THIS ARTICLE
Pt. 1:
Changes in Operations and Code Requirements Affect Facility Wayfinding
Pt. 2:
Wayfinding: Helping Building Occupants Find Their Way
Pt. 3: This Page
Pt. 4:
Wayfinding: Keeping Signage Updated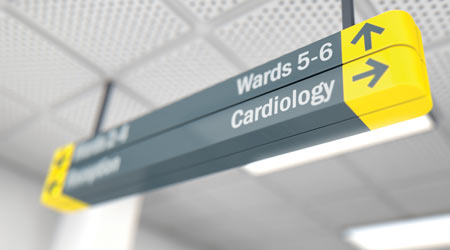 Building codes, including the International Building Code and the International Fire Code, establish the requirements for general signage. The codes identify the type of signs required, the information they must contain, the size of lettering required, and their placement in a building, and the Americans with Disability Act accessibility guidelines define additional signage requirements.
While identifying the needs of a particular facility requires a review by an individual familiar with all applicable building codes, managers can follow general guidelines for different types of signs.
Exits. An approved exit sign must mark all exits, and it must be visible from all egress directions of travel. Exit signs also must mark any doors between the egress door and the interior passage, and no point in the egress corridor can be more than 100 feet from the nearest sign. A light source with an output of at least 5 foot-candles must illuminate all exit signs, and all signs must remain illuminated for a minimum of 1.5 hours in the event of a power failure.
Fire doors. All fire doors must include a sign attached to or near the door that identifies it is a fire door that must remain closed or that is not to be blocked. Unless the door manufacturer states otherwise, signs attached to doors must use adhesive rather than nails or screws. The type of lettering used on the sign and the minimum letter height are all specified by code, depending on the application.
Floor identification. Buildings of three or more stories must have signs that identify the floor level, directions to exit the building, the availability of roof access, and stairs identification. Each side of the door must identify the stairs by alphabetic letter.
Elevator emergency. Every floor of a building with an elevator landing must have a sign instructing occupants not to use the elevator in the event of a fire emergency. The signs must be posted next to the elevator call button.
Hazard identification. Facilities that store or use significant quantities of hazardous materials must have warning placards, which must be in the shape of the familiar color-coded diamond and identify the type of hazard.
James Piper. P.E., is a national consultant based in Bowie, Md. He has more than 35 years of experience with facilities maintenance, engineering and management issues.
Continue Reading:

Signage

Changes in Operations and Code Requirements Affect Facility Wayfinding

Wayfinding: Helping Building Occupants Find Their Way

Wayfinding: Code Considerations

Wayfinding: Keeping Signage Updated
---
---
---
Related Topics:
Comments