You Might Like
On FacilitiesNet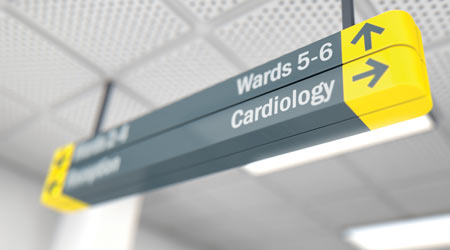 Wayfinding: Helping Building Occupants Find Their Way
Facilities, tenants and regulations change regularly. These strategies can help managers ensure signage keeps up with the changes
Once visitors and occupants are inside the facility, one of the most important tasks of signage is wayfinding, which refers to the way signage and other systems directs a visitor through the facility to a desired destination. While wayfinding is important in all facilities, it is particularly important in facilities with high visitor occupancies, such as transportation, health care, educational, and government buildings. Managers can use a host of tactics — including color schemes, maps, and wall symbols — to direct occupants. Signage is the most important. Three major types of wayfinding signage are required; directional, conformational and informational.
Directional signage tells people where to go and typically includes a directory identifying the floor and room number of a particular operation. Once on that floor, additional signage indicates the direction a visitor must go to reach that location. Numbers or names posted outside of particular areas identify the location.
Conformational signage is particularly important in larger facilities, such as airports and hospitals, that often have long, complex systems of corridors. Conformational signage tells people that they are headed in the right direction.
Informational signage offers important information to building occupants. Think of an airport where informational signage indicates where a particular flight is departing or arriving.
When evaluating wayfinding signage requirements, managers need to take the same approach used in evaluating site signage: Play the part of a first-time visitor. When entering the facility, is there clearly displayed information identifying the destination and the route to get there?
Once on that route, does signage periodically confirm a visitor is on the right route? Are there enough signs to provide the information a visitor needs to complete the task that is the reason for the visit?
Managers also need to consider lighting requirements. Signage must always be if the building is occupied. Windows might produce glare that makes it difficult to see or read signs, and night conditions similarly might make it difficult to find and read signs. Backlighting critical signs or providing sign specific lighting might be required in these instances.
Having the proper wayfinding signs is only the first step. Managers also need to consider the materials used to construct signs, balancing such factors as cost and appearance. In general, costs increase as the level of appearance increases. More expensive materials result in higher costs.
While managers might opt for more expensive designs, that is not always the best decision. Consider the rate of churn in a facility. High levels mean frequent changes in signage requirements and, as a result, higher costs. In facilities with churn, a less elaborate, lower-cost signage system might be a better choice.
Continue Reading:

Signage

Changes in Operations and Code Requirements Affect Facility Wayfinding

Wayfinding: Helping Building Occupants Find Their Way

Wayfinding: Code Considerations

Wayfinding: Keeping Signage Updated
---
---
---
Related Topics: