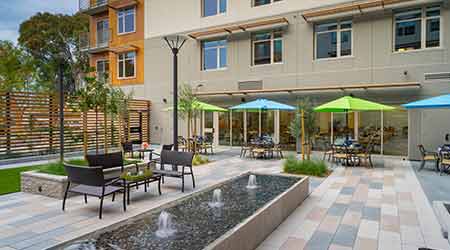 The Next Generation of Senior Living Facilities
Responding to residents' changing needs and creating facilities that are part of the urban fabric should be the design goals for new senior living facilities.
As the preferences of seniors change, owners, managers, and developers are defining new types of senior living in different kinds of settings, tailored to resident desires. The industry is changing to be more integrated into existing communities, providing residents with community connections and non-seniors with an education into the benefits of senior living. Historically, senior living was developed on large campuses in rural and suburban areas. These campuses were a world unto themselves — all services, amenities, and activities were provided so that residents never had to leave. Part of the reason that people overwhelmingly want to age in their own home is that they retain community ties that have likely been fostered over many years. People want to access amenities and services and still feel like they are part of their vibrant, active community. This desire to be connected is forcing developers to locate senior living communities in urban and more dense suburban environments.
Senior living that is integrated into the urban fabric responds to changing resident needs and helps to destigmatize senior living for the population at large, making it more of a mainstream, desirable product. When the greater community can interact with seniors and operators, they see that senior communities are not a place to be feared, but rather, great places to live. One challenge, however, is that moving to denser environments means that it is more difficult to find desirable land for development. Repurposing different types of buildings, such as malls and hotels, into senior living is becoming more frequent and feasible.
Although these market changes have significant effects on the industry, the largest disruptor is still in its nascent stages — new models of living and care. Hints of these new models are starting to be seen in the marketplace; few have yet to be realized, but common themes exist. Two of the most common themes include models created by unique partnerships and those that provide the services and amenities to seniors who still live in their own homes.
Partnerships outside of senior living offer developers the opportunity to create a unique product that provides more than the typical housing and care offerings. Examples of these partners include healthcare providers, multi-family housing providers, universities, retailers, and research institutions. These unions offer the possibility for integrated healthcare, intergenerational activities and living, volunteerism, and life-long learning. Regulatory and financial structuring challenges exist in these partnerships, but the payoff in marketability to residents far outweigh them.
A promising model allows people to age in their own homes while providing the services of a continuing care retirement community. These are known as CCRCs without walls and are a mix of services and physical space. People remain in their own home but are provided transportation to the CCRC and oversight by its staff. The CCRC becomes a social and care center where people can choose to spend their day socializing and consuming services but can go back to their own home at the end of the day. This works well for those who do not need high levels of daily care. Similar models are emerging in retail settings not tied to formal CCRCs. These models focus more on wellness and social activities and less on care, but can be tied to healthcare or private providers.
As new models come on the market and resident preferences change, the buildings themselves must also adapt. The market tends to fluctuate in two ways — change in levels of residents' care needs and change in resident desires, in desires for either the type of apartment or the type of amenities. Building flexibility into resident apartments and functional spaces will help communities adjust to changing market conditions.
An assisted living and memory care community named The Trousdale that recently opened in Burlingame, Calif., is flexible in these ways. It is designed on a modular grid so that each assisted living floor can be converted into a memory care floor, and vice versa, with minimal changes to walls. All plumbing was run and stubbed out to accommodate either function. Similarly, the resident apartments are designed so that they can flex between number of bedrooms. Two adjacent studios can be combined to form a one-bedroom apartment, and adjacent studio and one-bedrooms can be converted into a two-bedroom apartment. This gives the operator a large mix of apartment types at different price points to allow for maximum resident choice.
Continue Reading:

Senior Living Facilities

How to Stay Hip with Design Trends for Senior Living Facilities

The Next Generation of Senior Living Facilities

Integrating Technology into Existing Senior Living Facilities
---
---
---
Related Topics: