Sessions at NFMT Vegas 2016 to Focus on Big Data, PACE Financing
NFMT Vegas brings together facility professionals from across the country for educational sessions, exhibits.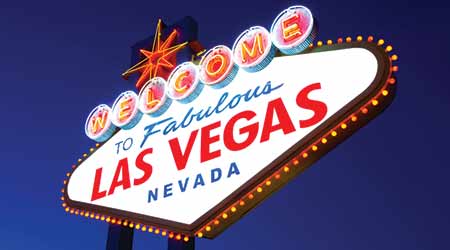 Some facility management department meetings are large, well-planned, participatory discussions filled with creative ideas, multiple options and lively discussions. Others are quieter, single-topic lectures designed to deliver one specific message. Still other departments almost never meet as a group, because they're all too busy putting out or preventing metaphorical fires, and keeping their occupants happy. The best facility management department meeting will combine elements of all of the above.

During the first two days in November, the Mirage Event Center in Las Vegas, Nev., is the location for the ultimate FM department meeting — NFMT Las Vegas 2016. It brings together facility professionals from across the country for two-and-a-half days of educational sessions ranging from the strategic to the day-to-day-practical. It also includes the year's biggest West Coast facilities-focused exhibition of products, services and solutions for improving facility operations.

Conference registration is free, so attendees could bring multiple team members. Educational sessions are divided into eight overlapping tracks that delve into topics for greenhorns and veterans alike. Here's a brief look at some of them; visit www.nfmt.com/vegas for the complete list, or to register.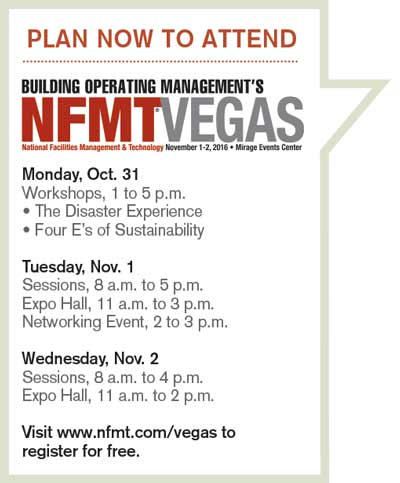 The Big Data era
A thread running through many tracks is the use of data to improve the occupant experience, reduce costs, gain efficiencies and better manage operations. Says speaker Scott Clark, "We are now officially in the Big Data era. As more buildings and operators implement BAS, the need to understand and analyze building data is growing at an exponential rate. Owners are compounding the challenge for operators by requiring more with less. Building engineers, along with facility managers, have to figure out how to easily and quickly understand and analyze their data in order to stay ahead of problems and control costs." His presentation, How Big Data Will Drive Facility Managers and Maintenance, will show attendees how to turn building data into actionable tactics.

In the Internet of Things (IoT) track, Kevin Binnie of CopperTree Analytics discusses the hype and reality of IoT and analytics. CopperTree solves energy management issues through technology that automatically checks the integrity of a BAS pinpointing system inefficiencies. A CopperTree case study describes how a school district saw a 55 percent reduction in energy consumed once occupancy and demand patterns were identified using data analytics.

Funding projects
Finding such places to look for cost savings and other operational improvements is an element of the sessions in the Energy track as well. Attendees can find out about PACE financing, which has been called a paradigm shift in funding energy efficiency and renewable energy projects, as well as how to monetize large EPAct deductions.

Building owners and facility managers can also learn how to leverage BIM data for facility management. As speaker Michael Tardif says, "Architects, engineers, and contractors live in a model-centric (BIM) world. Building owners live in an information-centric world. Most building owners are not yet ready to manage live building information models, but many are ready to manage the rich data set of information that can be extracted from these models." His session explains how to bridge the BIM2FM gap.

In the Safety & Security track, choose from Emergency Planning 101, Annual Fire Door Inspection Requirements, ADA Requirements, NFPA 70E 2015 for Arc Flash Safety, and more. In the Leadership track, you can connect with and learn from your peers — especially the ones willing to share what happens when FM leaders fail.

Between sessions and at the end of the day, you can ask questions of experts and peers, as well as meet with other members of their team to discuss creative ideas. Whether you need to understand the newest technology, evaluate specific solutions, or get up to speed on practical essentials like ADA compliance and fire door inspections, NFMT Las Vegas 2016 has something for everyone. See for yourself.

Email comments and questions to renee.bassett@tradepress.com.
---
---
---
Related Topics:
Comments