You Might Like
On FacilitiesNet
NFMT Turns 20 With Its Best Show Yet
The three-day event, which is free for all attendees, features more than 500 suppliers and more than 100 education sessions that provide 10 hours of CEUs.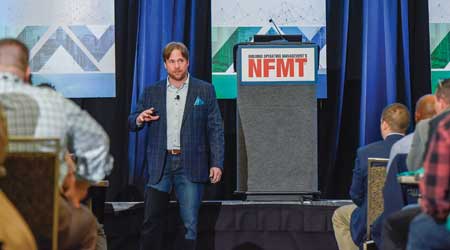 The National Facilities Management & Technology Conference and Expo (NFMT) returns to Baltimore this March for its 20th show. Taking place at the Baltimore Convention Center August 11-13, NFMT attracts thousands of facility managers from across the United States for three days of education and networking, along with a chance to see the latest products.
Even after 20 years, NFMT is still entirely free to attend. Although some things have changed, the best parts of the show remain the same, including 100-plus education sessions.
NFMT has grown during the past two decades and now boasts the largest facilities expo hall featuring more than 500 suppliers and vendors displaying the latest products and technologies. The exhibit hall doesn't open until the education seminars end, so attendees don't have to choose between learning about the latest trends and seeing product and service innovations.
In-depth education
One of NFMT's claims to fame is its robust education offerings with more than 100 sessions. These seminars add up to 10 hours of continuing education units (CEUs). The show is sponsored by Building Operating Management and, as such, our expert editorial staff helped develop this year's education schedule.
To assist attendees in choosing which sessions to attend, the schedule is broken into eight tracks: asset management, business management, disruption in facilities management, energy/utility management, operations and maintenance management, risk management, safety and security management, and smart buildings technologies. Sessions are also sorted by attendees' experience level — beginner, intermediate, and advanced.
The show kicks off Tuesday with an opening general session looking at disruptive forces in facilities management. This seminar will help facility managers navigate the turbulent forces that could impact their buildings and jobs during the next 20 years. Later on Tuesday, seminars will cover topics such as hiring team members, energy efficiency, building security, occupant health, and reducing waste, among others.
When it comes to the amount of education, Wednesday is no different. Attendees should have no difficulty filling their day. Session topics include smart buildings, occupant density, LEED, cybersecurity, water efficiency, and more. Finally on Thursday, attendees can learn about diversity in the workplace, active shooters, emergency preparedness, Millennials, and flooring trends.
Many seminars include a panel of experts moderated by Building Operating Management's experienced editors.
Learning doesn't have to stop once the exhibit hall opens. The QuickFire Theatre is located on the show floor at booth 1628. Equipment and service providers will be presenting 20-minute sessions on a variety of topics, including the Building Internet of Things, floor coatings, inspections, parking garages, and more.
Networking events
In addition to a packed exhibit hall and quality education, the best trade shows also provide fun networking opportunities to mingle with old friends and meet new contacts to share ideas and ask questions. NFMT has this covered, too.
The opening night networking party on Tuesday is the most popular event during NFMT. Attendees and exhibitors have a chance to connect in a relaxed setting with appetizers and drinks. Every year the party gets bigger and lasts longer. This event is not to be missed.
On Wednesday, there are two networking opportunities to consider. "Women In Facilities Management" includes a panel discussion followed by a reception with drinks and appetizers. Though the session focuses on women in the industry, everyone is welcome to attend.
Solutions Exchange, also on Wednesday, is a fast-paced networking event. Attendees will have the opportunity to participate in three, 20-minute discussions focusing on industry trends. Topics include BACnet, window replacement, snow and ice management, carpet care, and more.
The 20th NFMT comes to an end on Thursday afternoon with its closing session. Attendees and exhibitors will come together to identify the top trends and innovations outlined during the week.
Wait, there's more
Before NFMT officially starts, facility managers have the opportunity to attend a "training camp for career advancement." For $149, this workshop will teach facility managers how to better their resumes and job interviewing skills, along with other necessities for furthering their careers.
Once again NFMT is co-locating with Clean Buildings Expo, a trade show for the professional cleaning industry. NFMT attendees receive free access to this section of the exhibit hall where they can see the latest equipment and products used to clean their facilities. Facility managers can also network with building service contractors and in-house cleaning managers to learn better ways to provide clean and healthy work environments for building occupants.
The benefits of NFMT don't have to stop once the show is over. The NFMT Membership program allows access to video footage and all seminar handouts from the show for a low fee. With so many sessions in Baltimore, attendees likely have to make some difficult decisions when choosing which ones to attend. NFMT membership gives attendees access to many seminars they likely missed during the week.
---
Building Operating Management leadership sessions at NFMT
Wednesday, August 12
Women In Facilities Management 2020
Moderator: Naomi Millan, Senior Editor, Building Operating Management
One of the most powerful and honest sessions at NFMT, Women in Facilities Management brings together a panel of three women with widely varied career paths to talk about their experience coming up in the industry, their strategies for success, and the ways they bring their whole selves to bear on the profession. It's a highly collaborative session — the audience participates in the discussion, addressing fears and frustrations, as well as sharing wins and championing the increased presence and leadership of women in facilities management. 3:45 p.m. to 6 p.m.
Thursday, August 13
Creating An Inclusive And Welcoming Environment
Moderator: Edward Sullivan, Facility Group Editor
Diversity and inclusion are emerging as critical strategies for developing the workforce of the future and for maximizing the performance of current staff. It's clear that the most successful facility teams of the future will be more diverse in terms of ethnicity, religion, gender identity, disability, and other factors. This session will show how diversity and inclusion can improve the performance of a facility department by serving as an employee success strategy that puts everyone on the team in a position to succeed. 8 a.m. to 9 a.m.
FM Staffing Crunch: Practical Steps for Facility Leaders
Moderator: Dan Weltin, Editor-in-Chief, Facilities Market
Disruptive forces are poised to transform the way facilities are designed, used, and managed. Some disruptions are already being felt; others are looming down the road. Either way, now is the time for senior-level facility managers to plan for upcoming change. One key disrupter in particular is the new workforce. Baby Boomers are retiring and there is a need to attract the next generation of facility managers. This session will address succession planning, managing Millennials, and transferring knowledge to younger workers. 10:30 a.m. to 11:30 a.m.
Social Media For Facilities Departments
Moderator: Greg Zimmerman, Executive Editor, Building Operating Management
Social media is not just what your kids use to goof around with their friends. These days, when used effectively, social media platforms like Twitter, Facebook, LinkedIn, and many more, can have huge value for large facilities departments. This session will showcase a few facilities departments using social media successfully. It will highlight best practices and tips for attendees to bring back to their own operations. 9:15 a.m. to 10:15 a.m.
---
---
---
Related Topics:
Comments