Master of the Storm: How to Be Cool in a Crisis
Alishia Jolivette, chief operating officer for Houston Independent School District, has a plan in any crisis.
OTHER PARTS OF THIS ARTICLE
Pt. 1: This Page
Pt. 2:
Steering Houston School District Through COVID, Hurricanes
Pt. 3:
Simply Listening to Staff Concerns Helps Builds FM Team Accountability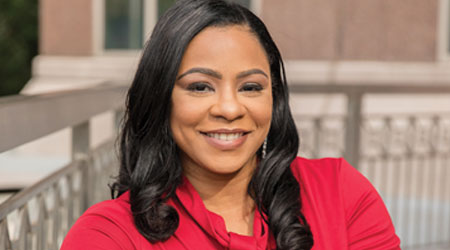 Melissa A. Jolivette Photography
It was the end of summer 2017, and everyone wanted the kids to go back to school. The parents, the students, the sports teams, the administration. Everyone.
Just months into Alishia Jolivette's tenure as officer of facilities maintenance and operations for Houston Independent School District (HISD), Hurricane Harvey hit Houston at the end of summer break, causing 68 fatalities. The Category 4 hurricane was the second-most damaging hurricane after Katrina. Of HISD's 280 schools, 200 suffered moderate damage from the storm, and 75 suffered major damage. Four elementary schools were completely destroyed and had to be rebuilt.
Now, three years later, the finishing touches are being put on those elementary schools — just in time to contend with a global pandemic. "The charge for me was not leading a team during the great times," says Jolivette, now interim chief operating officer, in her matter-of-fact way. "When it's running smoothly, it's easy."
Facing enormous challenges, Jolivette has corralled chaos through calm data-driven decision making, process thinking honed in years on the IT side of the house, and unwavering commitment to the students and her team. Having spent her career at HISD, both outside and inside the office of facilities maintenance and operations, Jolivette's experience over the years has made her exactly the correct person to lead HISD through the pandemic, and beyond.
Challenge accepted
Houston ISD is the seventh largest school district in the nation, and Jolivette likes to say it's the best. It serves more than 210,000 students and has more than 31 million square feet of total facility space.
By the time Jolivette was standing with the facilities emergency response team in the Harvey command center watching on the security cameras as the water poured into her facilities, she had been at the district for more than two decades. Growing up, she had always imagined she was going to be a prosecuting attorney, but after tagging along with a friend for an aptitude test at HISD, she found herself hired as a substitute clerk in the payroll department. From there, a pattern emerged that would repeat itself time and again during her career. In a stretch position, Jolivette faces directly into the challenge, working indefatigably to gather knowledge and skills, driving constantly towards mastery. "She has not shied away from being in a stretch role, in a role she's not 100 percent comfortable in," says Eugene Salazar, interim chief operating officer at HISD at the time he was interviewed. "She's going to make herself comfortable."
Her work ethic and determination to get things done was noticed, and she was asked to join as a clerk on the maintenance side of operations. Then an opportunity arose to take on a new project, implementing a new technology solution from SAP. They needed a special projects team that understood the processes for maintenance and the organization's structure, and Jolivette raised her hand. During her tenure in IT, she created processes which revolutionized the way FM is done at HISD. "Her experience in SAP allowed us to catch up to the rest of the district," says Salazar. Facilities was always an afterthought in terms of technology, he says, and Jolivette was instrumental in implementing reforms, like work order processing on handheld devices. "She helped bring us into the new age of facilities management."
Continue Reading:

Cover Story: Alishia Jolivette profile

Master of the Storm: How to Be Cool in a Crisis

Steering Houston School District Through COVID, Hurricanes

Simply Listening to Staff Concerns Helps Builds FM Team Accountability
---
---
---
Related Topics:
Comments