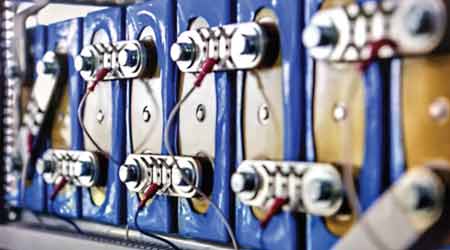 Lithium-Ion Batteries Offer Solid Return on Investment
First cost may be more, but the savings they offer in other areas can be substantial.
The biggest deterrent to lithium-ion (LI) battery specification is the sticker shock associated with the initial product cost. But LI batteries offer a return on the extra investment:
• Smaller real estate footprint means more usable space and lower construction cost.
• Reduced weight eliminates or reduces the need for structural reinforcement and cuts shipping cost
• Longer life span means fewer batteries have to be purchased over time.
• The fact that no ventilation is needed reduces construction costs.
• Built-in battery monitoring eliminates the expense of external monitoring equipment.
• Less need for preventive maintenance means less expensive maintenance contracts.
• The fact that used LI batteries can be used in other applications means that some money can be made by recycling LI batteries after they are no longer suitable for the UPS.
What's more, as more manufacturers enter the LI battery market, initial product costs are dropping. Some even speculate the cost of LI batteries will drop from one-and-a-half to two times its current rate, assuming a one-to-one cost of VRLA.
Continue Reading:

Critical Facilities

3 Benefits of Lithium-Ion Batteries For UPS

Lithium-Ion Batteries Offer Less Preventive Maintenance, Built-in Monitoring

Financial Company Saves Space, Cash With Lithium-Ion Batteries

Lithium-Ion Batteries Offer Solid Return on Investment
---
---
---
Related Topics: