You Might Like
On FacilitiesNet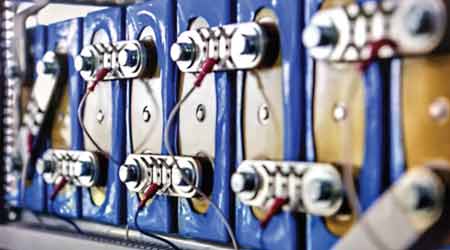 Lithium-Ion Batteries Offer Less Preventive Maintenance, Built-in Monitoring
If you're considering lithium-ion batteries for your UPS, these are some big advantages.
LI batteries feature built-in cell-by-cell battery monitoring. This inherent feature monitors critical parameters such as voltage level and imbalance, temperature (over/under), and charge and has been shown to prevent LI batteries in a UPS system from reaching a dangerous state. Upon detection of abnormal conditions, the batteries will provide warnings and, if necessary, automatically take corrective action not only to protect the system from damage but also to eliminate a potential safety hazard. To monitor VRLA batteries, an external monitoring system is required — at an extra capital expense, and one that would not provide cell-by-cell monitoring or automatically take corrective action. Furthermore, LI batteries can easily be tied to a building's building automation system so that readings and alerts go to a central location.
Less preventive maintenance
Although lead acid UPS batteries require preventive maintenance every six months to ensure their reliability, LI batteries require preventive maintenance only once every year or two. Per a preventive maintenance agreement with the LI battery manufacturer, a technician comes out to perform heat scans and check the torque levels on all the battery screws. Additionally, LI batteries can be replaced one at a time, while old and new VRLA batteries can't be mixed. When a single VRLA battery goes bad, the entire string must be replaced.
Once any battery reaches 80 percent of its capacity, it should no longer be used in UPS systems for runtime and reliability reasons. But there's a secondary market for LI batteries that are no longer suitable for UPS systems. LI batteries at 80 percent capacity can be sold for re-use in other industries and applications, including forklifts and similar equipment.
By contrast, when VRLA batteries are past their usable life in UPS systems, there is no recyling: Companies charge to pick them up and dispose of them properly because of environmental concerns with the lead that's integral to the battery.
Todd Frederick, PE, LEED AP BD+C, is an electrical engineer and team leader with Environmental Systems Design, Inc., in Chicago.
Email questions to edward.sullivan@tradepress.com.
Continue Reading:

Critical Facilities

3 Benefits of Lithium-Ion Batteries For UPS

Lithium-Ion Batteries Offer Less Preventive Maintenance, Built-in Monitoring

Financial Company Saves Space, Cash With Lithium-Ion Batteries

Lithium-Ion Batteries Offer Solid Return on Investment
---
---
---
Related Topics: