IoT Facility Applications Engage Issues Like Resilience, Staffing, Analytics
Last of a 2-part article describing Building Internet of Things facility applications that exist now or are on the way
OTHER PARTS OF THIS ARTICLE
Pt. 1:
For Facility Managers, Internet of Things Changes the Game
Pt. 2: This Page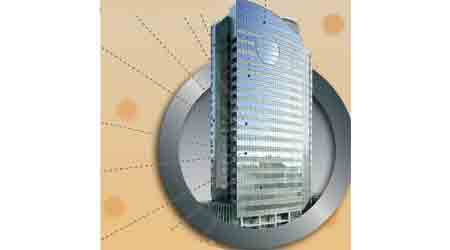 A look into the current and future toolbox for Building Internet of Things facility applications also touches on such issues as resilience, staffing, managed services, and analytics. Here are some of the other tools.

IoT is enabling a growing connection between demand response and resilience, notes Jack McGowan, author of Energy and Analytics: Big Data and Building Technology Integration. He says Christian Healthcare kept a hospital operating for seven days with no utility power after Hurricane Sandy by using on-site generation, demand limit control (DLC), metering, and the BAS to provide power to only the most critical loads. Tools like those enable smart facility managers to optimize use and be ready when resiliency issues like outages occur.

With new IoT technology being installed, will a new sort of facility staff be required? The answer is yes and no. "We need the same skills — plus," says Ken Sinclair, automatedbuildings.com. Knowledge of building operations will remain crucial, but staff will also have to use IoT technology as a tool. IoT skills won't be a problem for the next generation of facility staff, says Sinclair. The challenge: getting current facility managers to embrace IoT while educating new staff about building operations.

Managed services offer one way to take advantage of IoT energy data, says Glen Allmendinger, Harbor Research. The service provider's subject matter experts analyze IoT data for signs of problems, which can then be corrected either remotely or by a technician.

Analytics, whether cloud-based or embedded in building systems, are crunching the Big Data available from IoT sensors to identify problems that are increasing energy use, guide equipment maintenance, and provide user-friendly data to facility managers and building occupants.

"Magic carpet" uses a fiber-optic network to sense movement. Ultimately, the carpet, now under development at the University of Manchester in England, could detect falls and recognize changes in gaits, leading to applications in health care. The technology could also find a place in security systems of the future.

Just because a device is connected to the Internet doesn't mean it can work with other IoT devices. "Interoperability in the IoT still requires standards that are application-oriented (like BACnet) to provide the object models and data definitions that underpin useful interoperability," says Andy McMillan, BACnet International.

Embedded sensors and networking capability are giving LEDs IoT capabilities for gathering data. If every lighting fixture is a connected sensor, building automation could become "lighting-centric and information-rich," says Andy McMillan, BACnet International. That's only part of the story. With an LED, it isn't hard to change characteristics like intensity and color temperature. Manipulating such characteristics could bring benefits like increased sales or shorter patient stays. If "dynamic lighting" applications take off, McMillan says, they could transform building automation by making lighting improvements, not HVAC energy savings, the key reason for automation projects.
A multitude of new capabilities are reshaping security options. Infant and child protection systems can now use Wi-Fi access points and Internet GPS data to locate security tags anywhere in a hospital, says William Sako, Jensen Hughes. Instead of scrapping older systems, facility managers can link them to a Web-based platform that operates above the legacy systems for viewing and control. And that's only the beginning. Sako expects a proliferation of intelligent security devices, like IP cameras with built-in analytics, while integrating public and private information will make it possible to ramp security up and down in response to real-time developments.
Continue Reading:

Building Internet of Things

For Facility Managers, Internet of Things Changes the Game

IoT Facility Applications Engage Issues Like Resilience, Staffing, Analytics
---
---
---
Related Topics:
Comments