For Facility Managers, Internet of Things Changes the Game
Part 1 of a 2-part article describing Building Internet of Things facility applications that exist now or are on the way
OTHER PARTS OF THIS ARTICLE
Pt. 1: This Page
Pt. 2:
IoT Facility Applications Engage Issues Like Resilience, Staffing, Analytics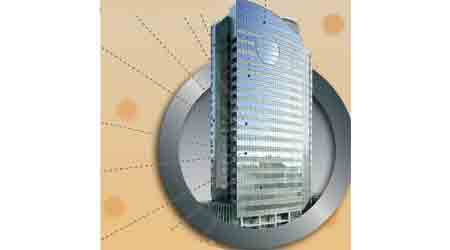 In an era when CEOs are talking about "digital strategies" for corporations, it might seem that bricks and mortar are not exactly relevant to the future of most organizations. But the dynamics that are producing Chief Digital Officers are also beginning to transform the way facilities are managed. Sensors in buildings are becoming cheaper, smarter, and more widely used. New connections are being forged, not just between devices in a system, but among systems in a building and buildings in a portfolio. And the unprecedented volume of data coming from buildings is being converted into useful information by sophisticated analytics. For facility managers, there's nothing new about the idea of connecting devices to enable data sharing and control. But the Internet of Things, or IoT, changes the game in important ways.
For one thing, there are more tools and standard offerings that enable use of newly available data. "The balance has shifted to the use of this data," says Glen Allmendinger, president of Harbor Research. He cites another big change: Widespread interoperability has enabled the move beyond simple applications like monitoring alerts to "compound" applications involving multiple systems.
The Building Internet of Things is producing a multitude of new choices. There are cloud-based analytics, lighting systems involved in temperature control, new options for managed services, and software that sits on top of legacy systems to offer new levels of monitoring and control. "Be prepared for lots of newness and lots of things you might not have expected," Allmendinger says.
The top priority for facility managers interested in the Building Internet of Things is to learn about the capabilities and limitations of new technologies. That's the first step on the road to deciding how, when, and where to put digital strategies into action. Here's a look into the current and future IoT toolbox.

The Internet of Things is reshaping the operation of HVAC systems. Today, cloud-based analytics can monitor operations, capture trends, and manage settings, while a connection to the utility enables demand response, says Dan McJacobson, McGuire Engineers. As IoT infrastructure expands, "we will start to see an ecosystem of tools and services develop that will make the HVAC system more efficient and easier to operate," he says. For example, continuous commissioning tools, like automatic notification of performance problems, will become cost effective. Other IoT tools will automate daily tasks and help distill mounds of data into actionable tasks.

Remember when Web-based remote monitoring and control was the latest in building automation? Today, says Steve Brown, Environmental Systems Design, "IoT devices such as elevators, HVAC systems, and lighting controls are being integrated with intelligent building platforms." Communication across the systems fosters efficiency, for example, with common scheduling and occupancy programming. The new generation of technology can also give occupants more say about their environment — for example, apps that give individuals some control of lighting or temperature.

IoT is widely used for remote monitoring of alarm, trouble, and supervisory signals for fire/life safety systems. Some manufacturers are using IoT to provide real-time remote access to systems in remote locations, making it possible to diagnose errors remotely and ensure that, if a service call is needed, the tech comes with the right parts, says Brian McLaughlin, Arup. In the future, he says, smoke or heat detectors could feed real-time data to a BAS, reducing the need for overlapping sensors.

IoT could bring changes to the way occupants use elevators, says Jay Popp, Lerch Bates. Smartphones could be used as the security credential at turnstiles and automatically signal elevators to take a person to a specific floor. If elevators are configured for emergency evacuation, smartphones could be used to track which occupants have reached the elevator lobby or area of refuge.
Continue Reading:

4) COVER PACKAGE: Building Internet of Things

For Facility Managers, Internet of Things Changes the Game

IoT Facility Applications Engage Issues Like Resilience, Staffing, Analytics
---
---
---
Related Topics:
Comments