Integrating Technology into Existing Senior Living Facilities
Sustainability features and new technology — like advanced monitors and better lighting technology — should be considered when renovating or upgrading existing facilities.
OTHER PARTS OF THIS ARTICLE
Pt. 1:
How to Stay Hip with Design Trends for Senior Living Facilities
Pt. 2:
The Next Generation of Senior Living Facilities
Pt. 3: This Page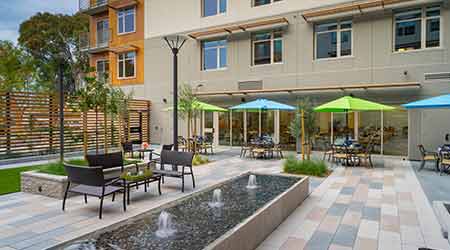 Existing senior living communities, more than two-thirds of which were built before 2000, are competing with new buildings better suited to what the market wants. However, with regular minor to moderate renovations that focus on aesthetics, sustainability, and wellness, these existing buildings can be renovated to keep up with their newer counterparts.
On average, minor upgrades to finishes and furniture should occur every ten years to refresh the product, while moderate to large scale upgrades should be done approximately every 20 years to fully reposition a community. Superficial upgrades are important to transform the aesthetic of traditional-looking communities. Historically, senior living is traditional in its look and feel, attempting to be "home-like" and evoke the feel of a single-family home. Recent shifts in the market's desires point toward a more transitional or contemporary look, similar to aesthetic shifts seen in the hospitality industry. Additionally, senior living communities need to appeal to a younger cohort, specifically the adult child of the potential senior residents who are helping to make decisions for their parents.
If the building wasn't originally designed with sustainability features, upgrades such as adding renewable energy sources like solar can help to attract and retain residents. Residents are concerned about their environmental legacy — what they're leaving behind for future generations — and they want their homes to align with their personal values and beliefs. There is an increased desire for highly sustainable buildings which can help an operator position and market the community. There has yet to be a large push toward net-zero senior living projects, due to a lack of education in the market and a fear of the up-front costs, although there is significant long-term cost savings. California is poised to lead the push toward net zero when codes change and net zero becomes a requirement for certain types of housing developments in the near future.
Integrating technology
The integration of technology into senior living communities can help residents maintain their independence, be socially connected, and exert choice and control over their environment. Technology can also reduce the building's operational costs, both in mechanical, electrical, and plumbing systems usage and in staff time. Advances in lighting technology save energy and improve the resident experience. Some systems mimic circadian lighting to improve sleep and wake patterns for those with cognitive impairments. This technology automatically controls the color and intensity of lighting indoors to mimic natural daylighting, triggering the body's intrinsic responses to wake and sleep at appropriate times.
Other technologies use sensors in resident apartments to monitor resident activity and safety. Monitors can detect if a certain resident's activity levels change, or the resident falls or fails to get out of bed; appliance usage can also be tracked. This technology is monitored remotely, increasing staff efficiency and reducing operating costs. Still other technologies are focused on connecting the resident to activities in the community and with their family and friends. Platforms such as K4 Connect integrate environmental monitoring, social connectivity, lighting, and energy usage technology into an easy-to-use tablet for the resident, with remote monitoring and control by staff.
Other types of technology are focused on improving resident and staff thermal comfort while simultaneously reducing energy costs. Typically, as one ages, one tends to prefer a warmer environment, which is often in opposition to staff, who are active during work and prefer a cooler environment. These different activity levels and metabolic rates can be accounted for using new wearables that allow the wearer to experience a plus or minus four-degree difference in temperature and smart thermostats that adjust areas independently for specific types of occupants. When spaces are empty, the thermostats are automatically turned down to save energy and money.
Owners, developers, and operators must start planning now for what senior living will look like in 2040 and beyond, when the crest of the "tsunami" hits the market. Changing needs and wants demand innovative responses. Denser development, integrated, diverse amenities, greater community engagement, environmentally sustainable lifestyles, and technological intelligence will become increasingly important. In our value-based culture, the accumulation of stuff and insular living is being supplanted by access to experiences and relationships. Communities that engage residents and users of all ages and abilities will be poised to thrive in the future.
Alexis Denton (Alexis.Denton@smithgroup.com), an architect and gerontologist, is a senior living strategist at SmithGroup in San Francisco. She currently serves as the chair of the AIA Design for Aging Knowledge Community.
Alexis Burck brings more than 15 years of design experience to her role at SmithGroup as an industry leader in senior living design. She has guided multimillion-dollar senior living and healthcare projects throughout the San Francisco Bay area.
Continue Reading:

Senior Living Facilities

How to Stay Hip with Design Trends for Senior Living Facilities

The Next Generation of Senior Living Facilities

Integrating Technology into Existing Senior Living Facilities
---
---
---
Related Topics:
Comments