In Sin City, Water is the True Gold
OTHER PARTS OF THIS ARTICLE
Pt. 1: This Page
One of my favorite ways to gear up for our annual NFMT Vegas event is to watch movies set in Sin City ("Swingers," "Lost in America" and "Ocean's Eleven" — both versions). My most recent pick: "Bugsy," loosely based on the life of Bugsy Siegel, the man who put Vegas on the map by building the lavish Flamingo Hotel more than 65 years ago. Watching the movie, I was struck that even then, Siegel faced the same issue many facility managers face today: how to get water into his building without breaking the bank.
People thought Siegel was crazy for putting a hotel in the middle of a desert, with some even claiming he would have to pipe water in from Los Angeles. Siegel persevered, however, and (spoiler alert!) while he didn't live long enough to see it, his once-fledgling Flamingo is now surrounded by lavish, massive resorts boasting highly sophisticated water- and energy-efficient technologies.
But that doesn't mean the issue of water efficiency has evaporated. In Vegas and well beyond, access to water is a necessary ingredient in an organization's business mix. And that's why the NFMT Vegas conference in October is an ideal place to learn about ways to increase water efficiency in commercial buildings.
Bill Hoffman, senior technical advisor at Water Management Inc. and a presenter at NFMT Vegas, says it best: "Water is the oil of the 21st Century."
He's right: In the next 25 years, the U.S. population is expected to grow by 70 million, while electric and water demand will climb 50 percent — all while water scarcity intensifies. For facility managers, water woes can trickle right down to the bottom line as higher utility costs and processes like wastewater reclamation add to operating expenses.
If you're one of the FMs who has a water efficiency plan in place, congratulations! For you, the glass is at least half full. And if you're not? Hoffman suggests a water audit to gain a thorough understanding of water use throughout your building. "You should be asking how much, where, when, how, who, why and what other way," he says. "The cheapest water you will ever have is the water you already have."
As for Richard Restuccia, director for water management solutions at ValleyCrest Companies, Inc., he suggests you take it outside. Literally. Like Hoffman, he'll be talking about water efficiency at NFMT Vegas, but his focus is on irrigation — a huge water consumer, soaking up more than 50 percent of the urban water in the United States and three times the amount used by water faucets and toilets combined. It is, he says, an opportunity to improve the balance sheet.
"Water conservation for landscape is more than just fixing sprinklers," he says. "It reduces operating costs, improves net operating income and conserves natural resources."
Steve Bruskiewicz, the national energy solutions development engineer for Johnson Controls, Inc.'s Water Technology Group, also stresses the fiscal side of water conservation, noting that facility managers can create financially sound water efficiency projects in commercial buildings that save money and the natural resource without major interruption. His NFMT Vegas session is the perfect place to start if you're looking for ways to improve your building's water efficiency.
Come to NFMT Vegas to hear from Bill, Steve and Richard and over 60 other great speakers; visit www.nfmt.com/vegas to register for the free conference and for a complete list of sessions.
Email comments to wendy.dietzler@tradepress.com
4 Crucial Areas to Reduce Water Use
cooling towers
process equipment
landscaping
plumbing fixtures
Here in Wisconsin, you wouldn't think we spend a lot of time worrying about water. Bordered on two sides by Great Lakes, and subject to significant snowfall most years, by all rights the Badger state ought to be all wet.
But that's not necessarily the case. Like many other states, Wisconsin's demand for water is at risk of outstripping supply, adding pressure to a system already challenged by its industrial demands — from our breweries to our mines to our paper mills, water is a necessary ingredient in our business mix, and without it, our economy could suffer significantly.
— Wendy Dietzler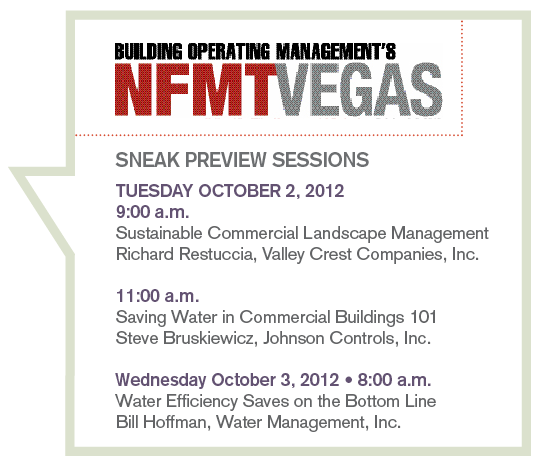 ---
---
Comments