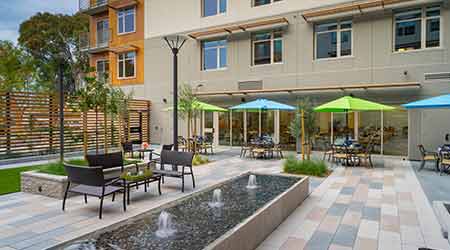 How to Stay Hip with Design Trends for Senior Living Facilities
The "silver tsunami" is coming. These design trends help create vibrant social spaces with ample activity opportunities for senior living facilities.
Many mainstream publications warn the public of the "silver tsunami" poised to flood the senior living market. This term, often used to describe the aging baby boom generation, paints a picture of an endless need for senior living developments. While the next few decades will see the largest number of people in history consuming senior living services and care, only a small percentage of the population will choose to live in senior living communities, unless there are major changes to the models of living and care. The overwhelming majority of older adults want to remain in their own homes as they age. Thus, the industry's task is to create senior living communities that offer people something they can't get at home: vibrant social and learning opportunities and ample activity choices, that allow people to thrive long after their abilities change with age. Understanding current trends in development and design will help us predict where the industry is going over the next few decades.
Senior living encompasses housing and care for active and frail seniors. Independent living, assisted living, memory care, and skilled nursing make up "the continuum of care," with housing (independent living) for the most active and independent on the left, moving toward those with more care needs in assisted living and memory care, finally with skilled nursing providing the most services on the far end of the continuum. Each of these types of communities provide dining, social, and activity amenities for residents to enjoy. Continuing care retirement communities, or CCRCs, encompass all those levels of housing and care. They were recently renamed "life plan communities," although the industry uses both names interchangeably.
While most older adults want to age in their own homes, some others prefer the social opportunities, safety, and security of residing in a senior living community. Others want to downsize, and some need the care provided by assisted living, memory care, or skilled nursing. Although the general senior population is counted as those over the age of 65, seniors typically do not move into independent living until age 78 or older, and age 83 or older for assisted living. Many older adults delay moving into senior living until a life-changing event occurs, such as a fall, change in ability to care for oneself, or the diagnosis of an illness.
Senior-specific design
Environments that are designed specifically for seniors help residents continue to live independent and active lives. As people age and cognitive and physical abilities change, their relationship with the physical environment changes as well. It becomes more challenging to overcome obstacles in the environment, including things like a bathroom that is difficult to find, long hallways with no clues as to where one is in the building, cabinets that are difficult to open, and a door that is too heavy to open easily.
Not only should the environment reduce the amount of challenges that seniors must overcome, it should also be supportive, helping seniors use and maintain their remaining abilities. For example, if a senior can walk but has challenges walking long distances, the environment can help them by offering spaces to periodically rest along hallways and outdoor pathways. A toilet placed in view of the bed can help a memory care resident remember to use the bathroom. The goal of the senior living environment is to be invisibly supportive, that is, the environment is helping people without them knowing it. An obstacle-free and supportive environment does not need to look any different from an environment for people of all ages.
Continue Reading:

Senior Living Facilities

How to Stay Hip with Design Trends for Senior Living Facilities

The Next Generation of Senior Living Facilities

Integrating Technology into Existing Senior Living Facilities
---
---
---
Related Topics: