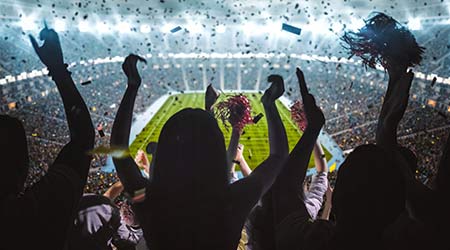 How to Improve WiFi at Sports Stadiums
Not just a nice-to-have anymore, fast and reliable WiFi is essential to the fan experience at sports stadiums these days. Here's what you need to know.
How do teams keep fans interested in going to the games?
For many years, that question had an easy answer: If your team wins games, people will come.
Then television started providing fans with the ability to watch games from the comfort of home, with beverages and bathrooms only steps away.
Other deterrents that threaten the game-day experience have also emerged, such as escalating ticket and concession prices and dealing with unruly fans.
During the last two years, COVID-19 has given pause to a segment of sporting fans who normally would attend sporting events.
Through all of those roadblocks comes another reason for teams to worry about fan attendance: poor Wi-Fi connectivity.
For Andrew Snead, the senior managing director for Delta Partners, a company that works with stadium crews on improving the fan experience, the threat of dwindling fan attendance is one that all facility managers in charge of stadiums and large arenas need to make a priority.
"There are three key dimensions to consider with fan behavior, and the ways with which they consume their preferences is changing and shifting," says Snead, who was part of a webcast, Smart Stadiums and Innovating the Fan Experience, hosted by BrightTalk. "We're living in a world where there's an increasing amount of competition for attention, whether it's staying at home, whether it's gaming, whether it's Esports, there are many things that are competing for the attention of fans.
"Technology has helped change that. The smartphone and general use of apps and internet technology has shifted behavior and shortened attention spans. Now, 90 percent of people who consume team sports, whether it's at-home or in the stadium, do so while (with cell phones). The second screen has become increasingly relevant to the experience."
Upgrades in connectivity, such as developing a 5G network and more private networks inside stadiums, as well as improving engagement opportunities, are important aspects of the fan experience, Snead says.
"An existential challenge that leagues and clubs have is trying to remain relevant, whether it's the NFL, MLB, or major soccer leagues," he says. "They have to create fan experiences to keep fans engaged and involved, and also figure out how to monetize it. In soccer clubs, they say if you can monetize every fan a dollar a year, that's a tremendous amount of value creation."
Ali MacGregor of AECOM, a design and architectural firm that specializes in smart and sustainable designs in venues such as stadiums and arenas, says finding that mix of matching the home and stadium experiences continues to be a challenge.
"People are frustrated because you have these big concrete boxes, and how does that affect connectivity?" MacGregor says. "As designers, we have to provide at least the same level of connectivity to other forms of media in venues, so you're not compromising being at home. (Fans) should want to be there and spend the day, and at the same time be engaging as if they were at home with the same level of comfort, and same level of connectivity, but at the same time with their friends."
Even though a generation of people now struggle to remember an existence without cell phones, addressing the connectivity issue is a developing process.
"As a fan and as an observer of the space, I think things are going more slowly than they should," Snead says.
Why is that transition taking longer than anticipated? Part of the reason is that the stadiums are still evolving as to what they will look like in the future.
"One of the things you're seeing is teams want to create more space for socializing," says Sam Chernak, senior vice president of complex solutions for Comcast. "As people want less and less to sit shoulder to shoulder in seats with strangers, or with the guy who's drinking too much or yelling too loud, more and more people who hold tickets are going to be in more social spaces or have access to lounges."
One of the developments in future stadium renovations and design projects that managers will need to consider going forward is the impact of sports gambling. As more states continue to legalize sports gambling, stadiums are poised to have automated kiosks and people taking bets during games at counters. How this appetite is whetted for fans at stadiums could go a long way to determining how fans consume their sports in the future.
"Every stadium is going to have a sports book in the near future, or a large ticketed area for those people who want that," Chernak says. "All of these physical renovations that take place, there's a whole reconfiguration of facilities to cater to."
Of course, there is more to the sports stadium experience than better Wi-Fi, which helps lead to gambling apps and interacting with other fans and family on Twitter and Facebook. Parking, concessions and restrooms also can influence a consumer's thoughts on whether to watch games live or from home. Operations managers should constantly evaluate their offerings to keep customers happy, the webinar's panel members agreed.
"How do we support stadium operators and facility managers to enhance the fan experience?" asks Keith Gornish of Machine Q, an Internet of Things solutions provider. "That could be through access and collecting data. Simple examples of that could be through access and collecting data of how long do you stand in line to buy food, access merchandise? Those are simple things like the proliferation of smart bathrooms or the whole bathroom experience. Through accessing this data, we're able to give operators and facility managers a lens to look through and make things more efficient. That results in fans having a better experience overall."
Dave Lubach is managing editor for the facility market. He has more than six years of experience writing about institutional and commercial facilities.
---
---
---
Related Topics: